August 10, 2018
Share this Story
207's Groundbreaking Work in Career and College Advisement
I want to welcome everyone back for the 2018-2019 school year at Maine Township High School District 207. There has never been a better time to be a District 207 student, as our teaching, learning opportunities, systems of support and personalized service to our students have never been better. ​Our class of 2018 was perhaps the first in American history to attend high schools in which every teacher, every year, had an instructional coaching plan to support the very best level of teaching in every classroom, as District 207 strives to reach what researcher John Hattie calls "Collective Teacher Efficacy," which has an effect size of d=1.57 and is the number one strategy that any school can implement to improve student outcomes. It's also the most complex because it takes a focused effort from everyone to achieve. Simply put "Collective Teacher Efficacy" happens when an organization of people is operating at its very best because each person is operating at his or her best. Instructional coaching effectively supports systematic changes we continue to implement to provide the best learning environment for students.
This school year we will implement our new Hybrid schedule, which will help us significantly improve the level of service to students across all areas, including academics, social and emotional needs as well as our groundbreaking career-and-college advisement model. The career and college focus is based on getting every student "relevant career experiences" to improve their decision making process about post-high school decisions. Part of that process will include using strategies to provide "return on investment" college advisement. This year we will be the first district in America to use a specific suite of analytic tools in combination (YouScience, pathwayMANAGER and JobsEQ) to help us provide deeper levels of information to students and families. The concept map below from our District Career Coordinator Dr. Laura Cook illustrates the specific tools we will be adding to career-and-college advisement process.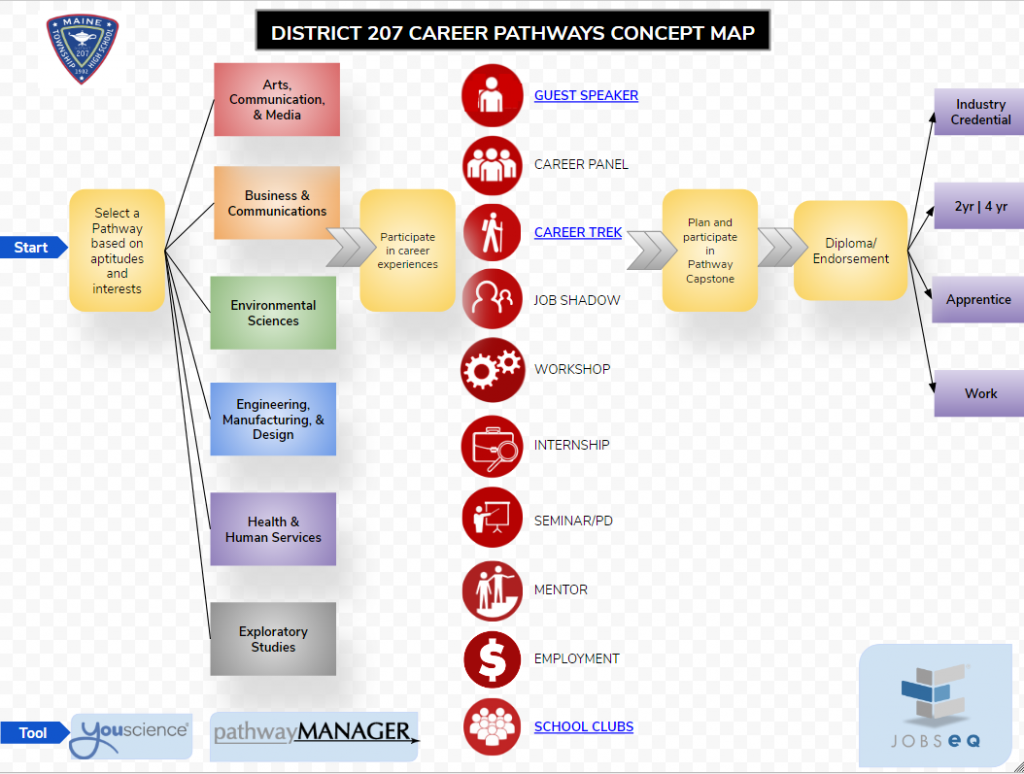 YouScience is a tool that will help us provide better information to students and families about career possibilities by not only providing "match" possibilities but by also indexing those matches with better data about the viability of those matches. The pathwayMANAGER resource will tie high school courses to Career Pathways to help students and families have a clearer understanding of the education paths required to prepare for a given career. This tool will also provide an online resource for career experience and employment opportunities. Finally, JobsEQ will help us do better "return on investment" counseling as we will be able to look at careers in real time to see their availability, average starting salaries by zip code as well as which colleges or trade schools have the best placement rates. Using these tools will enhance each student's "Individual Career Plan" to advise students and parents on the best options for post-high school education and opportunities to lower costs and time while providing the very best interest match for each student.
Essential to our work is our groundbreaking commitment to helping each student use actual experiences in a career field before making post high school decisions. When Dr. Cook began her work with us in 2014 we had 74 business partners to provide internships for the approximately 230 students who had internships at the time. Today we have over 500 business partners to help us provide experiences to many more students across a much wider set of career fields.
And we aren't done. This year our goal is to have relevant career experiences for more than 1,000 students. To get where we want to go, we will need even more business partners, and we will need to continue to improve and refine our processes. Let's consider it from a single student perspective: a student who is clear on his or her chosen path will be counseled to look at all of the elements, jobs availability, average salaries by zip code, cost of training, and certifications or degrees to help make sure that students and families aren't carrying more debt for a career than is merited. For students whose career experiences convince them that the career of interest isn't for them, we will work to provide multiple experiences to increase the chances of finding the right fit. Students who know why they are going to college, trade school or to professional training have a much higher success rate. We will add power to what we are doing by asking each teacher to provide at least one relevant career experience in each class that is authentic to the learning experience of that class. All of this helps us do what we are here to do: serve our students by helping "get it right" for each of them. It's a big lift for any District, but it's worth it and necessary not only now but into the futures that we are sending our students.
The call to improve our level of service is driven by national data that shows record college debt, over $1.5 trillion total in the U.S. economy, with many students carrying debt for jobs that either don't exist or don't pay enough to justify the amount of debt incurred. In fact, the largest spot for high paying, high demand jobs actually exists in the space beyond a high school degree but before a four-year college degree. We are paying closer attention to actual job trends than ever before to present students and families with an accurate view of where the jobs really are, what they actually pay and how much debt is appropriate for any career field. We are also not only growing our number of college and certification courses, but we have also achieved historic access to those courses for our students. For example, as recently as 2008 only about 30% of our District 207 students were taking Accelerated, Advanced Placement College or Dual Credit College courses. Today that percentage is nearly 60% and we are trending upward. The more college credits and job certificates we can provide to our students, coupled with actual experience while they are in high school, the better we will have served them in their pursuit of a successful career.
It is exciting work, and we are privileged to serve the students of the District 207 community in work that is at the forefront of how to help students find better career matches in the shortest amount of time at the lowest possible cost. The Hybrid schedule will allow us to have access to students each week for 90 minutes to better meet all of their needs, but particularly in pursuit of helping each of them prepare for success after high school. We truly believe that our Hybrid schedule, because of the unprecedented levels of student service it will provide, as well as our groundbreaking career and college advisement process, are both the future of American High School practice. Our students are benefitting from both of these right now, and we are only getting started. We will learn and continue to improve to help support at the highest level possible. Students who know why they are going to college, apprenticeship or certification programs have a better chance to succeed. You can visit our career exploration page for more information.
Please let us know how we are doing and how we can do better. My email address is [email protected]
Sincerely,
Ken Wallace, Superintendent