May 13, 2019
Share this Story
It is Time to Evolve How We Measure "Top High Schools" in the U.S.
Presidential candidate Elizabeth Warren's recent proposal to provide relief to many US citizens burdened by the student loan debt crisis has elevated the conversation in an important way locally and nationally. CBS News has run stories recently on the issue, and I was even a guest on WTTW's Chicago Tonight show on April 25th to discuss what Maine Township High School District 207 is doing to provide precision "Return on Investment" career advisement to our students to help alleviate the debt problem and improve overall career outcomes for students.
Let's frame the debt conversation, as the US News and World Report recently announced its annual list of "top" high schools in America on April 30, 2019, to a larger conversation about how best to serve today's students in a significantly changed work and education landscape. To begin that we must consider whether or not the measures used to determine these "top" schools are as beneficial to our students as they once were. Even though all three of our Maine Township District 207 High Schools are on the "Top Schools" list again due to our intentionally focused efforts to insure that outcome, there's a compelling case to make that we need to rapidly change our strategies to better serve all students, and that will require moving away in some degree from the Advanced Placement (AP) courses.
To be sure, our push to expand our AP offerings was and is about ensuring that all students have access to our most challenging curriculum. That has been a cornerstone of our philosophy, and it will remain so. We have used an evolved Mutli-Tiered System of Support to help insure student success that includes a daily "early warning" system to help us intervene for students in need whenever and for whatever reason that occurs. While those offerings currently have cache in the rankings, they do not always provide the benefit to students in true post high school education and career paths that dual credit courses can. I am asking U.S. News and World Report, Washington Post, Newsweek, and other ranking services to reconsider their ranking methods as a case exists that creating the "arms race" conditions that exist around AP and IB to drive a high school's rankings may actually be harmful to students in multiple ways, while expanding dual credit courses (courses that provide students with high school and college credit) instead of AP and International Baccalaureate (IB) has much more benefit to most students.
How much of an "arms race" are we talking about? In the period between the 2001-2002 school year and the 2017-2018 school year, United States test takers grew 299% and tests grew 318%. (see table 1) District 207 helped fuel this growth; in fact we set a District goal in 2015 to get all three of our schools to a 3.0 Washington Post Challenge Index by 2020. We met the goal in 2018, but we will not be setting a goal to get to 4.0 indexes.
The Advanced Placement "Arms Race"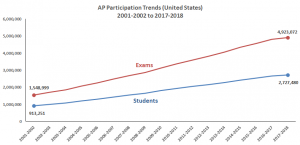 Table 1 (above) – Prepared by Maine Township High School District 207 using publicly available College Board Advanced Placement test longitudinal data.
Problems with the "Top High Schools" Rankings:
First, the rankings include magnet schools that are selective in their enrollment, but generally only accept students willing and able to take Advanced Placement (AP) and/or International Baccalaureate (IB) course work, which are the only courses valued in the methodology under "college readiness" by ranking outlets like U.S. News and World Report and The Washington Post. Public high schools like Maine East, Maine South and Maine West reflect a picture of what a true public high school looks like with a wide range of students and cognitive abilities. We proudly accept all students including students in need of comprehensive special services in order to meet their full potential.
Second, even though the rankings typically look at "college readiness" as a factor, because the rankings only give weight to AP and IB courses, they leave out dual credit courses which are the fastest growing sector of college courses for District 207 (and many Illinois) students. There may be no better proof that a student is "college ready" than by that student having earned actual college credit on a transcript that, by law, has currency at every Illinois state college and university.
Dual Credit Courses are the future in Illinois
A dual credit course recognized through the Illinois Articulation Agreement gives a student guaranteed credit at Illinois colleges and universities. For example, a student in a one of our schools that passes an English 101 course has guaranteed English 101 credit at Illinois colleges and universities. A similar AP course may or may not be granted that same credit, and the general trend out of state is that more and more colleges are refusing to grant students credit for the Advanced Placement courses that they take in high school. A dual credit course, conversely, has guaranteed currency in Illinois, and it will have more currency even at out of state colleges and universities because it will exist on an actual college transcript. And Dual Credit courses align much better to our students' career paths, another key distinction.
As we have looked at the changing landscape of the workforce, we have developed a first-of-its-kind "Return on Investment" Career Advisement program which increases the depth and precision of our service to students. As part of this approach, we believe strongly that we serve our students better by increasing their access to dual credit courses. It is our hope that ranking outlets like U.S. News and World Report, The Washington Post, and Newsweek will soon catch up to the leading indicators in high schools like ours and many others. Further, we believe that the increasing mental health issues of students across the country may be increased because of the College Board's conflation of voluminous content with course rigor. Parents and students frequently cite the mountains of homework typical in AP courses for causing loss of sleep and high amounts of stress in students; further, the reliance on volume rather than deep inquiry flies in the face of current learning science in education. A more balanced approach, supported with strategic use of dual credit courses, aimed at better service to students through evolved career advisement is in order now.
Illinois is poised to be a national leader in dual credit courses in ways that will not only benefit its students and the state by reducing the time and money spent on training to enter the workforce, but also by keeping students in state and in our workforce. I wrote the original draft elements of Illinois Senate Bill 2838 and worked with a large coalition of Illinois leaders to get it passed unanimously in the House and Senate and signed into law by Governor Bruce Rauner to increase opportunities for Illinois students to take dual credit courses in their high schools.
According to research done by the Community College Research Center at Columbia University, Illinois students who take dual credit courses while in high school have the second highest college completion rates in the nation among other students taking dual credit courses. Looking at the bigger employment picture, the largest segment of good jobs, those for which there is demand and a livable wage, exist in the space beyond a high school degree and before a four year college degree. We have to expose students to all of best available career paths, and incorporating more dual credit courses that are tightly aligned with the larger distribution of careers is more beneficial to that mission than are AP or IB courses.
Our duty is to serve students in the best ways that help them succeed in life
As school leaders our highest priority is to serve our students in the best way possible to increase their chances of success in life. While we will continue to offer a comprehensive AP curriculum, the cost and value of dual credit courses, especially when aligned with a student's career pathway, is a much better bargain for our students in the short and long term. Our goal is to "get it right" for each student by helping them find the right career pathway while reducing the time and money it takes families to have a student trained, certificated, credentialed or degreed to be successful in that chosen career.
Our nationally recognized work in career advisement is helping us do just that. It's a big reason why Maine Township High School District 207 was named one of America's 25 most innovative districts this year by the Successful Practices Network and the American Association of School Administrators. The time is now to truly reflect on the real work force economy that this generation of students is preparing to enter, and to employ every strategy that best serves our students even if it means evolving away from long standing traditions that have diminishing currency for our students. We all have a role to play in that.