District 207 Board Honors Students for their Work in Career Exploration
Written by Hannah Pisani, Communications Intern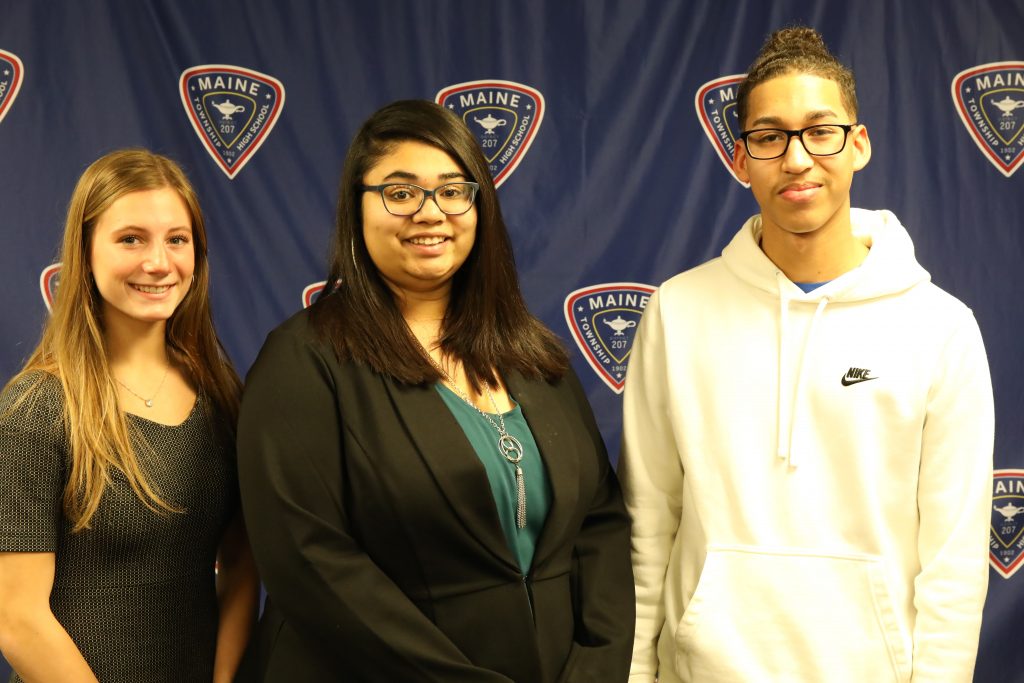 Three students have been named "207's Best" for achievement in the area of Career Exploration by the District 207 Board of Education during the March meeting. These students are Brianna (Bri) Risby (middle in photo) from Maine East, Edwin Palacios Torres (right in the photo) from Maine West and Sarah Whitelaw (left in the photo) from Maine South.
Risby earned recognition because of her journey to find what she wants to pursue in the future. Coming into high school, Risby had a dream of working as a neonatal nurse. She took an array of classes to prepare for this future career such as Child Development & Parenting, Anatomy & Physiology, School Age Child, Medical Terminology, Personality & Relationships, Certified Nursing Assistant Program and Preschool Practicum. However, during that journey, Risby found another passion for her future: teaching. Through her experience in learning about one type of career, she stumbled upon a new one with a new found passion which is one of the goals of the District's program. She is eager to start college to become an elementary school teacher.
"When I first met Bri in August as one of my Preschool Practicum students, she voiced how she was only taking the course to learn more about children because she wanted to be a nurse, and knew that she didn't have much experience helping young children," says CTE teacher Michelle Meyer. "Bri started out the year very nervous to start teaching the preschool children in our program, and didn't really have much confidence in her communication skills. She had a few lessons that didn't go well at the beginning, but she took my advice on how to improve her teaching skills over all, and started meeting with me over our lunches and any other free time she had to work on improving her teaching. By the time second semester started, she had shifted her mindset and not only became a leader in her class period, but a mentor where she was also helping her peers with their lessons and talking them through on how they could improve their skills. I have never seen a student this quickly gain so much confidence in her abilities. I think that Bri has surprised herself in her abilities and it is all due to the fact that she knew how to ask questions, accept constructive criticism, work hard, set goals, and take risks. These are all wonderful qualities to have in a teacher, and I know she will make a positive impact in the world as a teacher."
Torres is another student that was named one of "207's Best" in March. He is working towards becoming an engineer by taking advantage of several opportunities that Maine West offers. He enrolled in courses that are part of Project Lead the Way and took multiple "career treks" in manufacturing and autos that related to his classes. This allowed Torres to see what kind of career possibilities he could pursue in the future. In addition, this year he joined the Kickstart Apprentice Program that takes place at the Technology Manufacturing Association in Schaumburg. There, District 207 students can earn certifications for potential paid internships. After finishing up his certification, Torres applied to ICATT (Industry Consortium for Advanced Technical Training) to work as a programmer or machine operator.
"Early on in his career at West, Edwin's ability to analyze novel problems and develop creative solutions was unmistakable," says Chemistry teacher Nate Hassman. "I witnessed this first-hand watching him obliterate Sophomore Chemistry. Edwin is quiet and humble by nature. His talent sneaks up on you. Watching him in action is like watching an Olympic-class sprinter: efficient, smooth, elegant. You forget that what he's doing is really difficult."
Whitelaw's path in exploring careers has led her to find a passion in speech pathology. She plans to begin studying this at a four-year college next year. This career exploration in the medical field started with a nursing internship at Lutheran General. Whitelaw enjoyed her time there but realized it wasn't something she would want as a job. Because she has been exposed to language and speech with her mother being a Spanish professor at DePaul and being in spanish classes at Maine South, she decided to try speech pathology as her next internship. Sitting in on appointments at Jefferson School in District 64, Whitelaw has been able to see students progress which she finds rewarding. She even sometimes gets to model and demonstrate different phonics to the student at the appointment.
"I met Sarah when she was a Freshman in my Spanish 1 class and from the start, Sarah demonstrated a keen intelligence, an impressive aptitude for languages and a sense of humor that makes her very good company," says Spanish teacher Mr. Jose Arguello. "I am lucky enough to have Sarah again in my class, Spanish 4 Accelerated, this year and her qualities have only grown. Being a friendly person, she makes friends easily and has befriended a Spanish exchange student with whom she speaks Spanish at school. Sarah embodies the best qualities we look for and foster in Maine South."