District 207 Educators Recognized with State Honors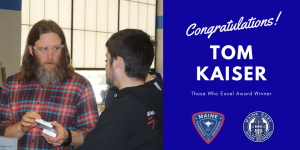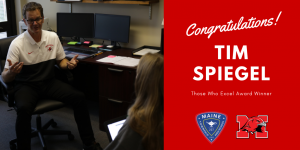 The Illinois State Board of Education will honor five educators from District 207 for their efforts on behalf of students at Maine East, Maine South and Maine West as part of the 45th annual Those Who Excel Awards.
Career and Technical Education Teacher Tom Kaiser from Maine East earned a meritorious award in the classroom teacher category. The ASCEND leadership team at Maine West earned a meritorious award in the team category. Those honored at West include Assistant Principal for Student Services Dr. Claudia Rueda-Alvarez, English Department Chair Dr. Tim Pappageorge and Science Teacher Nate Hassman. Counselor Tim Spiegel at Maine South earned a recognition award in the student support personnel category.
As part of Kaiser's nomination, Maine East Principal Dr. Michael Pressler wrote: "Tom believes that all students can learn: his planning reflects differentiation with time for students to think and process. Most importantly, Tom believes that failing is a step on the learning journey for most students, and he is there to provide support so that they are willing to keep trying."
ASCEND is a program that encourages, supports and prepares minority and other students to take challenging courses at Maine West. The initiative includes support meetings, mentoring, summer prep courses, office hours and specific check ins with students in the program. In the nomination letter for the ASCEND team, a former student wrote: "I always thought that I would never be able to take an Advanced Placement class because it would be way too hard for me to handle. My way of thinking was the same as that of the rest of the group members. But after attending several meetings, we were prepared to take on the challenge. We always felt supported every step of the way."
As part of Spiegel's nomination, a former student wrote: "What distinguishes Mr. Spiegel is his dedication to his students. As a counselor, Mr. Spiegel helped me to see the various educational paths I could choose to follow as a freshman, taught me time management strategies as a sophomore, was my most trusted advisor as I researched universities and internships junior year and helped me to manage the plethora of college applications I opened senior year (including a multi-step West Point application)."
The District 207 educators, along with others from across Illinois who have made significant contributions to the state's public and nonpublic elementary and secondary schools, will be celebrated at a state-wide recognition ceremony on Oct. 19 at the Bloomington-Normal Marriott Hotel and Conference Center.