Maine East Principal Mike Pressler Named Regional Principal of the Year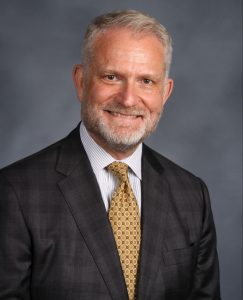 Maine East Principal Dr. Mike Pressler was recently named the Illinois Principals Association (IPA) North Cook Region Principal of the Year. There are just 21 regions in the state within the IPA.
As part of the nomination letter from Superintendent Dr. Ken Wallace, he wrote: "Since 2010, Mike has been a key member of our District 207 cabinet team that has helped propel us to our highest student achievement in District history despite linear rising student poverty and diversity trend lines. District 207 has been recognized twice in the past three years as one of the nation's most innovative school Districts, and Mike's work as Maine East Principal has been essential to those honors. Mike is a careful and thoughtful craftsman leader who is able to engage all key stakeholders in the visioning and execution stages of improving schools. I have personally witnessed it on numerous occasions. In particular, a number of the innovations for which District 207 is known had their first origins at Maine East under Mike Pressler's leadership."
Dr. Wallace added: "I have been fortunate to work with and know many educational leaders in my 34 years of experience, and, without a doubt, Mike is one of the very best I have ever known. He is a successful teacher, administrator and transformational leader whom other leaders across the nation call on for advice. Mike is an honest, trustworthy and loyal person who instills confidence in others that his decisions are in the best interest of students. Mike's leadership at Maine East High School is as powerful a model as anyone will find in America."
Dr. Pressler's colleague Maine South High School Principal Dr. Ben Collins had this to say as part of his nomination letter: "Mike is an exceptional leader. He is diligent, thoughtful, kind, and patient. In every way, he serves the interests of students and his community as a true public servant. Each month, we present a student to our board of education who demonstrates excellence in a school area. It's often that you listen to Mike's passion as he reads from his letter about the student and sometimes becomes emotional because he is so moved with their performance. In my experiences with Mike, he cares deeply about the high school experience of his students and how they navigate their time in his building. He wants the very best for them and throws the entirety of his attention to their learning environment."
Dr. Collins added this as part of his letter: "When the image of a high school principal imprints in my mind, Mike has all of the qualities that we should try and emulate. Care for students, support for progressive practices, advocacy for health and arts are the reasons why Mike Pressler is an amazing principal and it's an honor to call him a friend and colleague."
Mike has been the principal at Maine East since 2010 and started in District 207 in 1992 as the Fine Arts Department Chairperson and Director of Bands at Maine South.
The Principal of the Year criteria published by IPA includes the following characteristics: demonstrates positive impact on education and advocacy for children; ensures the school climate is positive and reflects high staff and student morale; demonstrates creativity and imagination in bringing about positive change; willing to take risks to improve student learning; moves actively to implement the goals and objectives of the school; works collaboratively with teachers and other staff to improve the educational program and student achievement; anticipates emerging problems and acts effectively to resolve them; involves the community in the life of the school and uses community resources for students.