Maine South Teacher Earns Regional Award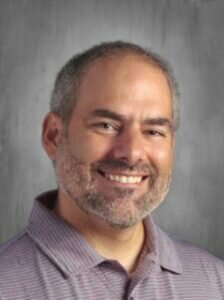 Alex Stathakis, advisor for the Maine South school newspaper Southwords, was recently honored by Kettle Moraine Press Association with the KEMPA Nancy Becker Newspaper Adviser of the Year award.
Annually, at the Fall Scholastic Journalism Conference business meeting of KEMPA, the organization honors Advisers of the Year. Advisers may be nominated by their publication staffs, their administrators or their peers. Nominations describe the impact the adviser has had and/or accomplished that sets that person apart in the minds of the nominators.
"I was so honored to have even been nominated for the award and hearing the kind words that colleagues and alumni shared with the committee was extremely moving," says Stathakis.
In addition, at the conference, Southwords won the All-KEMPA award in the 2021-2022 publication critique.
"Last year was the first year back after COVID and I am extremely proud of the staff's ability to navigate the publication process and effectively use InDesign to produce a newspaper that earned the press association's highest honor," Stathakis says.
KEMPA is the organization that supports scholastic journalism in schools, both in Illinois and Wisconsin.
"We appreciate how you continue to support and inspire your students to take on the tough issues facing your community while helping them to lead themselves," wrote KEMPA Awards Committee Chair Bob Kay.