Maine West Student Named Top 300 Scholar in Science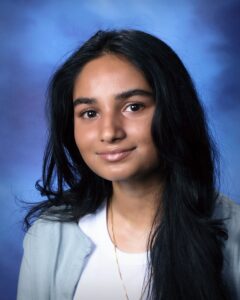 Pratiksha Bhattacharyya, a senior at Maine West High School, was named by the Society for Science (the Society) as one of the top 300 scholars in the Regeneron Science Talent Search 2022, the nation's oldest and most prestigious science and math competition for high school seniors. Pratiksha and Maine West will each be awarded $2,000.
The Regeneron Science Talent Search scholars were selected from 1,804 applications received from 603 high schools across 46 states, Washington, D.C., Puerto Rico and eight other countries. Scholars were chosen based on their exceptional research skills, commitment to academics, innovative thinking and promise as scientists as demonstrated through the submission of their original, independent research projects, essays and recommendation. The 300 scholars hail from 185 American and international high schools in 37 states, China, Switzerland, and Singapore, including three homeschools.
Pratiksha has been honored several times this year already. She was recently named a semifinalist for the 2022 class of the Coca-Cola Scholars Program and could potentially become a Coca-Cola Scholar and receive a $20,000 college scholarship. There were just 1,617 high school seniors from across the country, and just 73 from Illinois, selected as semifinalists from a pool of over 68,000 submitted applications from across the country based on their academic excellence, leadership, and service demonstrated in school and community activities.
She was recently honored by the District 207 Board of Education as a recipient of a 207s Best honor for academic achievement. She earned that award for consistently challenging herself and excelling in the most rigorous courses offered in District 207. She also earned National Merit Commended status this school year.
She is a member of the National Honor Society. She participates in Link Crew, COACH Tutors, Key Club, Math Team, Medical Club, the Westerner (school newspaper), the Indian Student Association, and the Math, Science, and Social Science Honor societies. She is still determining where and what she will study in college but feels drawn to health care, and is deciding between several areas: practice, policy, or medical technology development. She shadowed an endocrinologist as part of the district's career experience focus but is keeping her options open on what area she plans to specialize.