Maine West Student Shines as a Composer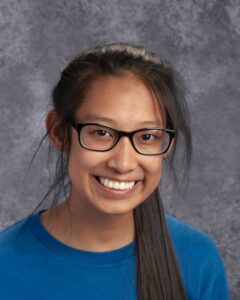 To say that Maine West junior Sophia Luong is humble is an understatement. Department Chair Jennifer Mullen has Sophia in her AP Music Theory class and found out by accident that her student is an accomplished composer!
As part of a discussion in class recently when Mullen shared with her students information about a state-level composition contest, Sophia shared that she completed a score that was recorded on May 31, 2021 at Guarneri Hall in Chicago following her participation in the Fellows of the Civic Orchestra of Chicago. When Sophia learned of the Civic Orchestra program, she decided to enroll and spent four weeks where she trained in music composition.
The title of her score is "March 2020" and according to Sophia is a reflection of how she was feeling at that time. "I wanted to write a piece that captured my experience of this unprecedented and challenging time," she says. She shares that she used the process of writing music to reflect on some of her thoughts and feelings spurred by the pandemic. She began her compositional process by sitting at a piano and improvising, writing down musical ideas from her improvisations as they caught her interest. The piece portrays the emotions Sophia was feeling as a result of the pandemic, captures some of her observations of others' feelings and responses to the pandemic, and recognizes the political and social unrest that was occurring at the time, specifically giving attention to the Black Lives Matter movement.
The score premiered on YouTube on September 17, 2021 and is available at https://youtu.be/_2KPycPujPg. In addition to her score, there is an interview with Sophia and the creative process she used to create the score. Her piece is performed by Joe Bricker, percussion and Hannah Christiansen, violin.
Each season, Fellows of the Civic Orchestra of Chicago, the premiere training orchestra of the Chicago Symphony, are provided with resources to develop and implement a creative project of their own design. In 2020-21, Civic Fellows Joe Bricker and Hannah Christiansen used this opportunity to launch "Chicago, From Scratch," a collaborative composition program presented in partnership with the Chicago Musical Pathways Initiative and Guarneri Hall.