Maine West Students Recognized for Service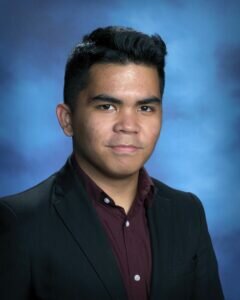 Maine West High School is thrilled to announce 35 students are being recognized by the United Nations Association of the USA (UNA-USA) and InnerView in the 5th Annual National Community Service Impact Awards. This program, open to all U.S. high school students, has been designed to connect student community service activities, skill development, and personal commitment to the Sustainable Development Goals (SDGs) to transform our world. The Kroger Co. is presenting the third annual Zero Hero Awards to students for taking action to help create communities free of hunger and waste. The award program recognizes a range of student achievement: Ambassador for 100 hours, Honor for 40 hours and Merit for 20 hours of service this school year and special recognition for a focus on Zero Hunger and Zero Waste.
Ambassador Awardee: Dulf Vincent Genis (pictured)
Honor Awardees: Sofiya Blazhko, Jessie Choi, Heba Penumaka, Lena Perry, Arieb Rana and Daniel Spade.
Merit Awardees: Sophia Alvarez, Pratiksha Bhattacharyya, Natalya Bidash, Ann Biju, Richelle Doma, Olivia Duffy, Shanette Ellickal, Farwah Husain, Olivia Kopec, Alexandra Krieger, Lindsey Kulesza, Du'a Mithani, Kris Modi, Jessica Mueller, Nitya Nair, Oscar Nevarez, Raphael Ranola, Marc Rizkalla, Sashelle Salazar, Angelina Sanchez, Samantha Servin, Samantha Sukosol, Melanie Tobon, Neo Trovela-Villamiel and Dimitrios Zimbrakos.
Special Recognition Awardees: John Dinse, Kris Modi, Raphael Ranola, Marc Rizkalla, Sashelle Salazar, Samantha Servin, Andrew Stutheit and Abby Wilson.