Students Recognized for Extracurricular Involvement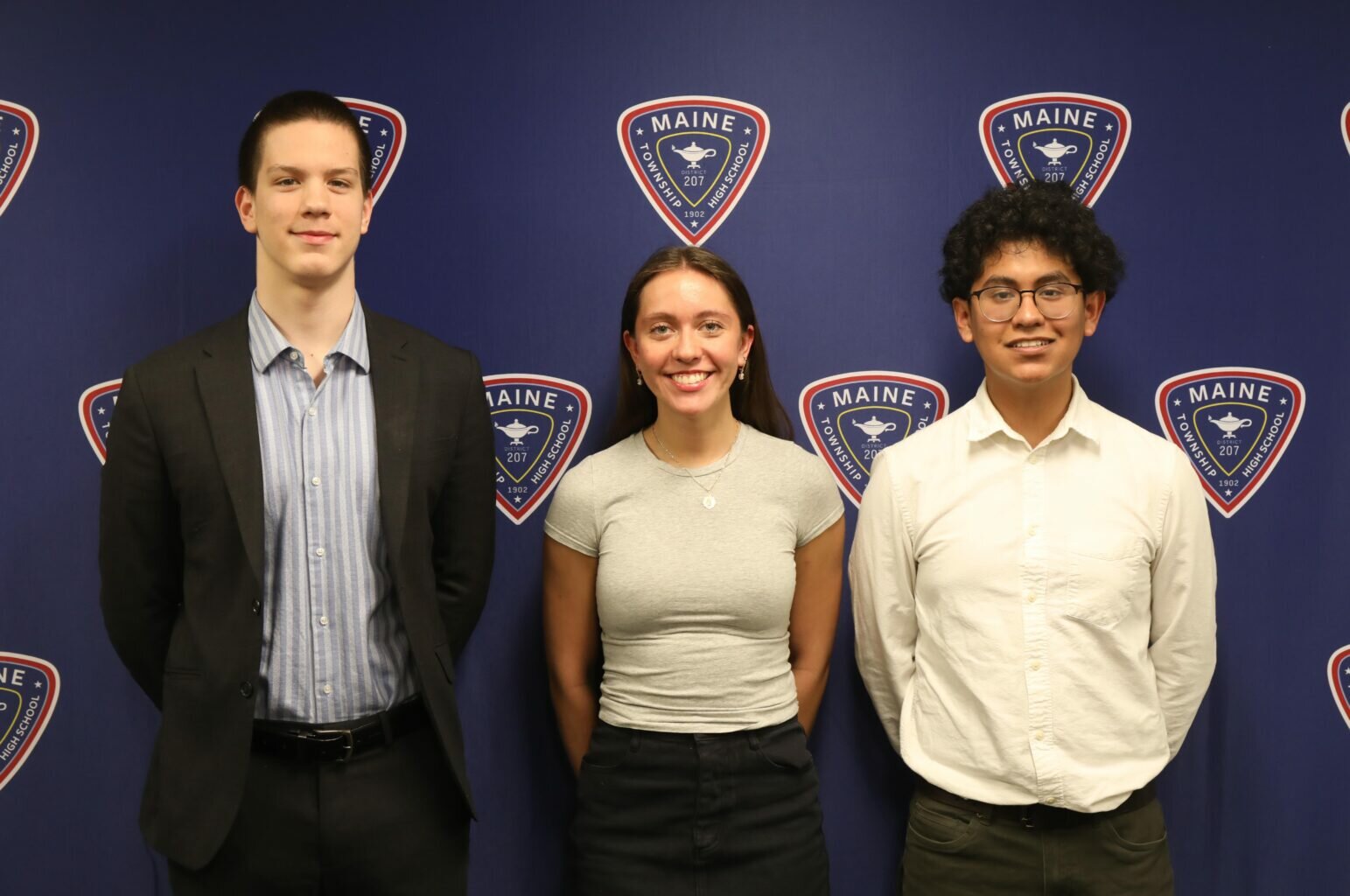 The Maine Township High School District 207 Board of Education honored three students as "207's Best" in the area of extracurricular involvement at the April board meeting. The students recognized were Megan Espinoza from Maine East (middle), Carlos Hernandez from Maine West (right) and Bart Kubis from Maine South (left). Below are the nomination letters written by their principal.
MEGAN ESPINOZA
Maine East High School is pleased to recognize Megan Espinoza as one of 207s Best in the area of extracurricular involvement.
Megan is one of those rare students that has a notable impact on everyone close to her including her coaches and sponsors. Balancing extracurriculars as a dedicated athlete and student is difficult; Megan does it with ease. She qualified for the IHSA State Girls Gymnastics meet this year, she is a two-time CSL All-Conference selection and has maintained a GPA over 4.0 throughout high school. Megan has also been awarded the CSL Sportsmanship award and the Betsy Axelson-McClelland award for her commitment and success in the sport. Megan is respected by her peers, teachers and the ME coaching staff. She is an excellent representation of what a Maine East Student-Athlete should aspire to be.
When talking to Megan about her success in the gym and in the classroom, I was most impressed with how she relates her experiences in gymnastics to her overall well-being. Megan shared with me that the greatest impact gymnastics has had on her is her confidence. She appreciates that learning new skills forces her out of her comfort zone. Challenges in gymnastics have guided Megan to find adaptive solutions and to persevere. She loves the satisfaction she feels from accomplishing new goals. Megan defines the bars as her favorite event because that's where she's shown the most growth throughout high school.
The many accolades Megan earned through gymnastics are just a portion of her success in extracurricular activities at Maine East. Over her four years she has participated in East Pals, swimming and diving, junior leaders, athletic training, marching band, senior leaders and National Honor Society.
The leadership and sportsmanship Megan demonstrates extends through everything she does.
Mrs. Sterenberg shared that, "It has been a joy and privilege to teach Megan in AP Psychology this school year. She is a natural leader that is able to make everyone feel welcome and comfortable. She will go out of her way to catch people up in her group and to make sure that everyone understands. She is also driven to succeed. She wants to do her best and be her best. While she takes school seriously, she is always up for telling a joke to keep class fun and me on my toes. Megan is one of a kind, and I cannot wait to see what the next chapter of her life brings. Thank you Megan for being such an asset to our AP Psychology classroom!"
Mr. Beckwith shared that, "It has been a pleasure to teach Megan in band these last four years. I have watched her grow into a confident leader with a joyful and friendly personality. She has been able to balance her commitment to band, her excellent athletic prowess, and her high achievement in the classroom. She matches her intensity on the gymnastics floor in all of these activities and does so with a high degree of success.
In addition to her wealth of accomplishments both during the curricular and extracurricular, Megan demonstrates a level of care and concern for her peers and staff members she interacts with. She takes the time to check-in with her fellow band students and myself and is always personable and friendly. She has been extremely successful in balancing her coursework, extracurriculars, and has done so with respect and care for everyone."
Ms. Rzeszutko shared, "I have had the pleasure of working with Megan this year as my senior leader for one of my PE Freshman classes. As a PE leader, she has been extremely responsible when asked to create groups and help with warmups. She is a great representative of our PE Leaders program. Megan has demonstrated to me a confidence in herself that not only comes from her maturity, but also from her drive to succeed in all that she does."
Ms. Luetje shared, "Megan has been demonstrating determination and leadership since her freshman year. Every meet each gymnast has a "Megan talk' in the corner where she motivates them to do their best and believe in themselves. Her determination shows when she begs coach and the athletic trainers for an extra hour of practice every Saturday so she can improve her skills. She never quits."
Ms. Jozwiak shared, "We are very fortunate to have Megan as a leader of the National Honor Society. She has an outgoing and effervescent personality that allows her to connect with the other leaders of NHS and builds relationships with the members during the meetings. She is dependable, reliable and hardworking and we have no doubt that she is going to do amazing things in college and in her career after."
Megan's experience in gymnastics, leadership and her own personal growth have contributed to her interest in sports psychology. She hopes to pursue a career in this area so that she can help other athletes develop themselves. Megan will surely be missed by many when she moves on to bigger and better things next year!
CARLOS HERNANDEZ
We value extracurriculars in high schools because they expand the ways in which students and staff can come together and create a sense of belonging and community that is unique to us. That sense of belonging and community is otherwise known as our culture, and while every school has one, the culture of each school is unique because of the things we create and share together. These come from the students, families, and communities we serve, and I can think of no better representative of what is best about Maine West's culture than Carlos Hernandez.
When Carlos was a freshman, he held back. "I didn't want to go at it that hard." He did Cross Country and Track, but didn't seek out other teams or clubs apart from running. Something made him say to himself, however, "I could be doing something more." Once he did, he discovered opportunities to branch out, to build connections with people he wouldn't know otherwise. In other words, he became a part of Maine West culture, and he has been shaping it with his enthusiasm, energy, and kindness ever since.
First came DECA and Mock Trial, where he was a state finalist in DECA and learned in Mock Trial that he has to get out there, speak in public, connect with people and not hang back in the shadows. This year he has twice been named "Outstanding Witness," the highest honor for that role in Mock Trial competitions, and qualified for the State Tournament. He joined Warrior Strings, for which he plays the violin, and began to take photos and write for the Westerner. He committed himself to community service in Key Club, performed in V-Show and the musical, became an anchor on Warrior Weekly, and ultimately would take part in the Ascend Scholar-Leader Program, Model UN, Mu Alpha Theta, the National English Honor Society, Pi Sigma Pi, Scholastic Bowl, the Principal's Leadership Team, National Honor Society, Tri-M, Link Crew, and the Science National Honor Society and Spanish National Honor Society, both of which he is the President. He continues to compete in Cross Country and Track, where he has formed his best Maine West memories, with current teammates and returning alumni at IHOP after meets, laughing and sharing stories. Carlos became a part of the culture he now shapes, and soon he will be the one returning to IHOP to stay connected with it.
When I asked Carlos what I should make sure the Board and the audience know about him, his response was immediate. "My devotion to my culture," he said. "My family story." At Maine West, and certainly beyond, Carlos has been able to embrace his language and his identity, cultivating a love of reading in Spanish and connecting his studies to his strong, intergenerational home life. On his Dad's side, his family speaks an indigenous language in their village in Mexico, while his Mom's family creates his home here, with his grandparents, mother, aunt, cousin, and sister. His father was deported when Carlos was 4, and he and his family anxiously await the results of a hearing in Mexico next week in which his father's opportunity to come back hangs in the balance. His family's story means a great deal to Carlos, as their experiences and resilience have shaped him.
And so he has shaped us. Carlos's impact upon our staff has been wonderful. Mr. Hassman, Track and Cross Country coach and advisor of the Ascend Scholar-Leader Program, has known Carlos for four years.
"For every year that I have known Carlos Hernandez, he has relentlessly pursued any and every possible opportunity to challenge himself, contribute to the community of the school, and sharpen the skills that he knows he will need as he pursues his love of the Spanish language and his business prowess, specifically in the field of Marketing. I am in a rare, blessed position to have watched Carlos grow. As an introverted Freshman Carlos demonstrated extraordinary classroom effort. This opened many doors; Carlos seized each opportunity by taking more accelerated and AP courses each year. His work ethic earned him the classroom success he continues to attain today. This effort, along with his willingness to work with others has made him a highly sought after leader. Carlos was hand picked for the Principal's Leadership Team, the Ascend Scholar-Leader Program, and Link Crew, our student-led volunteer mentor corps. I do not know of another student that treats his peers and the adults at Maine West with greater kindness. The sponsors of these aforementioned groups, as well the sponsors of DECA and Mock Trial, his coaches, his musical directors, and I have a tremendous respect for Carlos because of how he treats others. Carlos is a role true model for his younger peers. I fear the day Carlos graduates. His contribution to Maine West High School will leave a vacuum, he is simply irreplaceable."
Mr. Sumida calls Carlos, "A force of nature. As Science National Honor Society President, he is always prepared for meetings, brimming with good ideas to help students help themselves and one another. He always gives his all, and makes members of our club feel important, which is vital to our success."
Mr. Galanes, who has guided Carlos in his study of Spanish, considers him "one of my class leaders due to his academic achievement, engagement in class activities, and his participation. He is intrinsically motivated, has an innate desire for learning, and excels in and outside of the classroom. As a person, Carlos is a friendly and optimistic person who is respected by his peers and teachers alike. It has been an honor to have Carlos in my classes."
Mrs. Roemer describes Carlos as "Quiet Awesome. He is focused in the moment, on learning, and on success. It is a recipe that has proven successful for him. Not only was he a rock star in 1st period APUSH last year and Model UN, but also a state qualifier for National History Day with his exhibit on the reversal of the Chicago River. And he always dresses the part…" (Mrs. Roemer included a picture of Carlos next to his exhibit at History Day.)
Mrs. Mazanowski shared Carlos's contributions to DECA over the last three years. "Carlos has been a DECA member since his sophomore year, the year the pandemic caused all competitions to be held virtually. Carlos did not let that fact deter him and he ended up being a Top 10 finalist in the state in the Principles of Marketing event. Since then, Carlos's other activities and commitments have prevented him from competing, but he still took on a leadership role by serving as the Maine West DECA Chapter iConnect coordinator. This means that Carlos tracked all of our organization's activities throughout the year, and communicated them to the state officers. Carlos's efforts earned Maine West DECA Bronze Status and recognition at the state competition for the past two years. I am grateful to Carlos for his hard work on behalf of our DECA chapter."
BART KUBIS
Bart has been a varsity swimmer for his entire high school career. He mostly swims freestyle and added breaststroke his junior year. He holds records in the 200 medley relay, 200 free relay, and the 100 breaststroke. He qualified for state and made it to finals in the 200 medley relay and finished 3rd. The 200 freestyle relay made it to state finals and placed 12th. In the 100 breaststroke, Bart made it into finals and finished 9th. He also qualified for finals in the 400 freestyle. These accolades make him an all-state swimmer. As a whole, the boys swim team had their best finish in school history placing 5th at the state meet.
Bart is also a member of the school band, and was the center snare for the drumline and section leader. In August, he was a playing member of the Chicago Symphony Orchestra and played at Ravinia when they played the 1812 overture. Bart rocked the canon part!!
David Hutter, Bart's Band Director and Percussion teacher, says, "I have known Bart for four years and have had the honor of being his band director. Bart has been a vital member of the high school band for four years and has consistently improved year-to-year. His growth has led him to be in the premier percussion class for multiple years. This is a great accomplishment that not everybody reaches in their time here at Maine South and the fact that he was in this group for three years is very special. He has also been a member of the Marching Band and section leader of the drumline. His devotion to the program has made a huge impact.
Even though he has been recognized by his other teachers as an outstanding student in a variety of different subjects, he is not one who wants the spotlight. Bart is a servant leader. He truly cares about others and wants to help them become the best person they can be. He is the tide that raises all ships. I am so thankful to have had him on our band "team." He is also a young man of high character and strong moral values. I can trust Bart to work with any age or ability and know that everyone involved will have a positive experience and complete the goal. During parent teacher conferences this year, multiple underclassmen parents stated how much their sons and daughters looked up to Bart due to his musical talents and his ability to lead others. I told parents that they couldn't have picked a better role model at the school. Any University or future company that will employ Bart will greatly benefit from his leadership ability, contagious spirit, and drive to be excellent."
Bart's Counselor, Stepohanie Maksymiu, says, "One of the things that impresses me the most about Bart is his ability and willingness to combine a rigorous academic schedule with an equally rigorous extracurricular schedule. Outside of school, Bart devotes several hours per week to swimming. From his dedication to the sport, he has gained many skills that carry over into other areas of his life. His time management skills are solid and he has become adept in managing the demands that are placed on him academically and athletically. In addition to swimming for our high school, Bart swims year round for a Club Team and is a member of the Water Polo Team as well. Bart is a competitor, but he is a leader too. His position as Team Captain of both the Swim Team and Water Polo Teams further honed his leadership skills and enhanced his abilities to work with others no matter the setting in addition to building deep and lasting friendships. Bart is passionate about music. Over the past four years, the Marching Band and Concert Bands have benefited from his unyielding commitment to his art. Furthermore, he is the Section Leader for the Marching Band and is the Center Snare for the band as well.
Heidi Bowbin, Bart's Chemistry 102 teacher, says, "Bart is by far one of the most kind, compassionate and determined students I have had in years. He is the epitome of what a student/athlete/musician should be. Very rarely do educators see a student who excels in the classroom, athletically and musically. This award is most deserved."
Don Kura, his Economics teacher as well as Swim and Dive Coach, says, "Bart was a captain for the Boys Swim and Dive Team this year and excelled in that leadership position. I also had Bart in Economics class during the 1st Semester. Bart demonstrates tremendous work ethic, determination, and a willingness to hold others accountable in both the classroom and in athletics. These qualities make him an exceptional student in class, and outstanding leader and performer in the pool."
Alex Stathakis, Bart's English 1 Accelerated teacher says, "Bart has always stood out as an extremely engaged and respectful student–someone who is eager to learn and happy to be in school. His positive attitude and regular participation were especially valuable during the early months of remote learning when he was a freshman in my English 1 Accelerated class. Since then, Bart always takes the time to say "hello" in the halls, and he has been generous with his time for school newspaper articles."
Bart's Junior/Senior Fitness and Sport teacher, Don Lee, says, "Bart is a kind and thoughtful student who always greeted me with a smile. He is also a student who came prepared, engaged in each lesson with purpose and worked to his abilities."
Darcie Schanou, Bart's AP Literature and Composition teacher, says, "Bart is a thoughtful and inquisitive student whose insight adds depth to our discussions in English. He is an absolute pleasure to have in class."
James Harrier, his Drivers Education teacher says, "Bart was a pleasure to have in class. He was always prepared and eager to drive. Bart was one of the best students I have taught in Driver's Education."
Bart's Space Science teacher, Doug Walter, says, "In the few months I've had Bart in Space Science, he's shown himself to be thoughtful and inquisitive as a student. He's also been both reliable and humble as a person. Best wishes to your bright future ahead!"
Laura Kirshner, his English 2 Accelerated teacher, says, "It was a pleasure and a joy getting to know Bart in English 2 Accelerated during his sophomore year. Even though it was the pandemic year, he brought enthusiasm and a smile to our zoom and then eventually our hybrid class meetings. He is someone who others loved to work with because of his positive energy and his reliable work ethic. As his years in high school have continued, it has come as no surprise to frequently hear his name in conjunction with extra curricular success, for his commitment and strength of character were evident from the day I met him! I've been fortunate to teach him and a number of his siblings, and they are by far some of the best and brightest Hawks that I've known!"
Teralyn Keith, Bart's AP Music Theory teacher, says, "I've known Bart for four years through our Band program, and this year I was fortunate enough to have him in my AP Music Theory class. It has been sheer joy having him as a student. Bart is one of those students who has a great energy about him as soon as he walks into a room. He is intelligent, friendly, polite, and skilled in Academics, Fine Arts, Athletics, and Activities. He treats everyone with the utmost respect and kindness, produces high-quality work, and executes skills beautifully. Bart is a role model for others. He is a quiet leader that students look up to and is the epitome of Hawk Pride at Maine South. I'm thrilled he is being recognized tonight."
Next year, Bart would like to study political science, join the college marching band, and eventually study law. We wish Bart all the best!