This page is intended to help answer the questions that you may have while using online registration through the Infinite Campus Registration Portal.
1. Is the registration process available in Spanish? ¿El proceso de registro está disponible en español?
The language may be changed at the bottom of the login page:
El idioma se puede cambiar en la parte inferior de la página de inicio de sesión: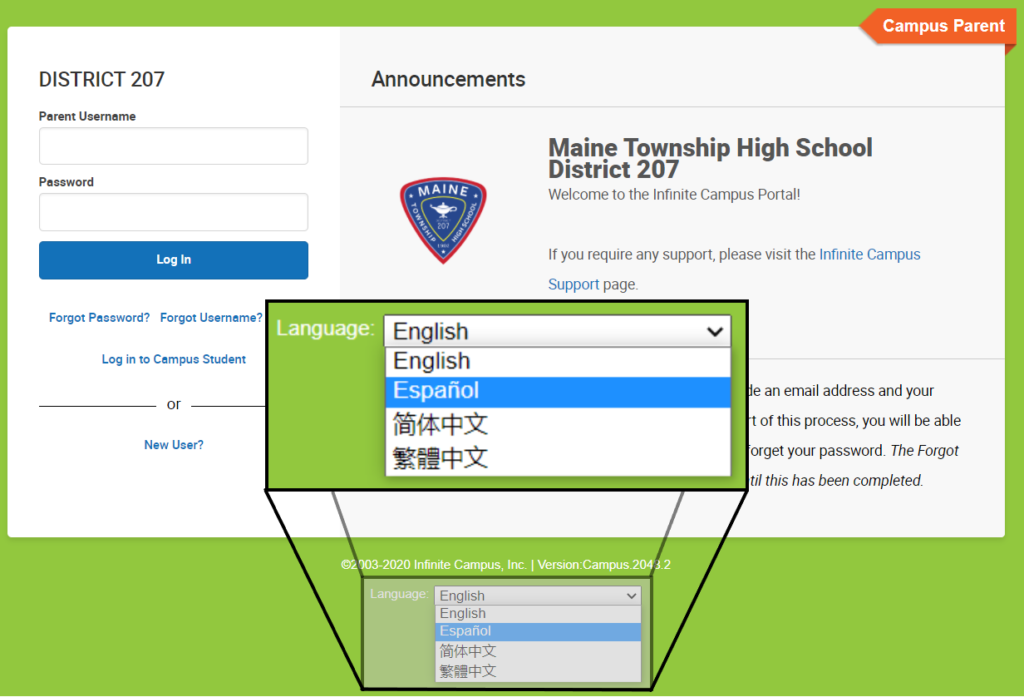 You can also use the following link:
También se puede utilizar la siguiente dirección de Internet:
https://bit.ly/207icparentportal-es
2. How do I open Online Registration?
Log into the Parent Portal at http://bit.ly/207icparentportal or https://bit.ly/207icparentportal-es (Spanish).
Click on the three horizontal lines (≡) in the top left corner of the page to open the menu.

Then click on the More page.

Select Online Registration from the list of links.

Please know there are many required fields that must be completed in order to move forward with online registration. They are marked with a red asterisk. Please take care when entering information into the system and double-check spelling, capitalization and punctuation. Dates should be entered as MM/DD/YYYY and phone numbers as 555-555-1234.
3. Why is the portal asking me for an email and password?
If you haven't set a security email, then you will see this screen the next time you login: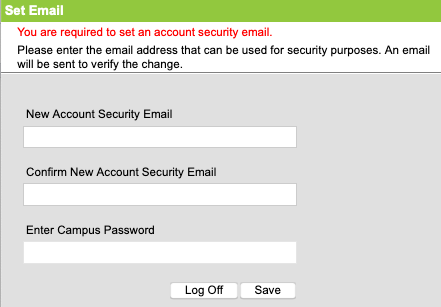 The security email is required for use with the self-service password reset. Please enter the email address that you would like to use if you forget your username or password. Enter your current password. This does not change your password. If you need help resetting a password, you can also visit our Portal Support page.
4. I do not have an Infinite Campus Parent Portal account. How do I register?
If you are registering a student that attended with us last year, please try to log into the Infinite Campus Parent Portal. For assistance, please utilize the Infinite Campus Parent Portal Support page. If you do not have an account, please complete this form.
For transfer students or new families not previously attending District 26, District 62, District 63, District 64 or District 79, please register using your email address. By registering utilizing this process, you will receive an Infinite Campus Parent Portal account after your registration request has been approved and posted to our system which typically takes 48 hours to process these requests. Please follow the instructions here. Once you have gained access utilizing this method, in order to re-enter the system please know that all the fields must match: name, birth date, email and application number. If you are unable to re-enter, try closing the browser windows for online registration and follow the link again. The page becomes locked when left open too long and wont let you back in even if the information is correct.
5. I started registration, but did not finish. How do I complete the process?
Follow the steps in question 2 above. When you open the Online Registration page, you will return to your online registration application where you left off.
6. I have submitted the form, and I need to make changes. How do I do that?
Please contact the school Student Services office to request that your form is returned to you for changes or for further assistance.
Maine East Student Services:
Laura Tortorello
847.692.8528
[email protected]
Louise DeBoor
847-692-8520
[email protected]
Michael Wartick
847-692-8529
[email protected]
________________________
Maine South Student Services:
Noreen King
847-692-8214
[email protected]
Michelle Wordel
847-692-8211
[email protected]
Melissa Pikul
847-692-8215
[email protected]
_____________________________
Maine West Student Services:
Barbara Perkins
847-803-5768
[email protected]
Marilyn Ramos
847-803-5760
[email protected]
7. Error messages appear in front of questions. How do I get rid of them to continue?
If red error messages appear in front of the questions or blocking part of the form, click on the error message and it will disappear.
Fill out the form completely or correct any errors to avoid seeing the error pop-up message.
8. Why is the address split into different fields, and what do they mean?
Infinite Campus uses standardized addresses that help us improve the accuracy of mailings.
As you start to enter an address, Infinite Campus will present matching addresses already in the system. If you see your address, please select it from the list. Otherwise continue to fill out the form to add a new address to our system.
If you are unsure about the fields, please know as you fill in the address it will appear below the form so you can verify the format is correct.
You may also want to use the USPS address lookup service to verify your address
https://tools.usps.com/zip-code-lookup.htm?byaddress
Using the following address as an example (1177 South Dee Road, Apartment 1A, Park Ridge, IL 60068), here is an explanation of the terms.
Number: Street number. In our example that would be 1177
Prefix: Direction of the street number. In our example it is "South" so we would select S from the drop down
Street: Name of the street without directions or tag. In our example it is Dee.
Tag: This is the portion after the street name, usually "Road", "Lane", "Way" etc. In our example tag is "Road" so we would select Rd from the drop down.
Apartment: This could the name of the unit, apartment number or letter or even a designation like "Upstairs" / "Downstairs" if a single address that has multiple mail boxes. In our example, we would enter 1A.
8. When I print my receipt, it is cutoff. How do I fix that?
If the top or bottom is cutoff when printing the receipt to paper, try using "fit to page" or "Shrink to page" option in the print dialog.
On Chrome web browser, this setting is under the "More settings" section.
9. I am getting an error message that indicates "Online Registration is currently closed." Why would I get that error?
The most common reason is when someone has already completed and submitted a registration. If you are receiving that message and have not submitted registration, please contact the Student Services department at your school (contact information is above).
The second most common reason is when you try to access registration from a Student Portal account. Online registration can only be accessed from a Parent Portal account. Please try to access Online Registration using a parent/guardian account. If you continue to experience issues, please contact the Student Services department at your school (contact information is above).
10. My question is not answered above. How do I get more help?
For assistance related to online registration, please refer to the online registration website at: https://maine207.org/student-services/online-registration/.