District 207 Board Honors Students for Academic Achievement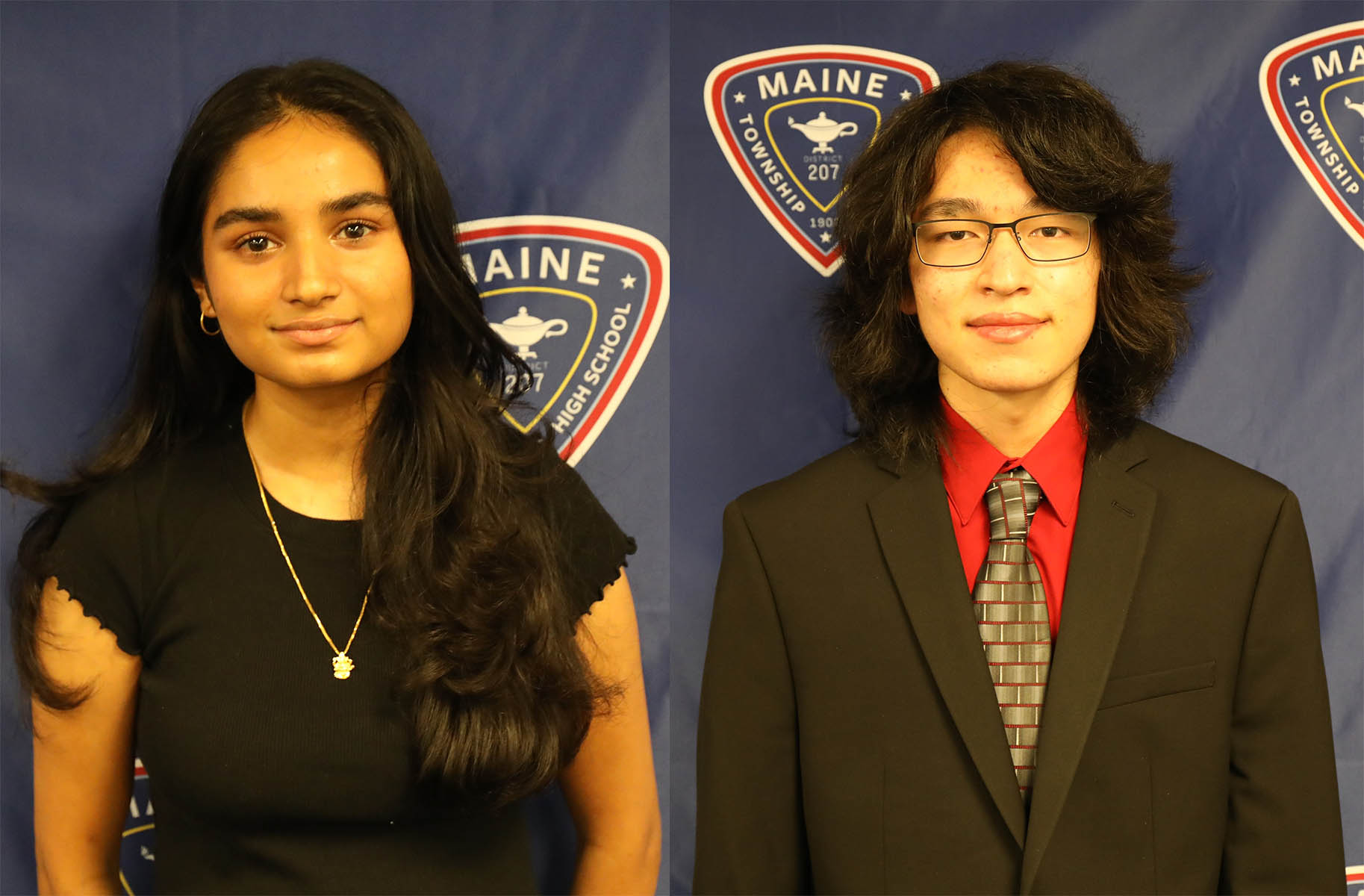 The District 207 Board of Education honored two students as "207's Best" in the area of academic achievement during its September meeting. The students recognized were Pratiksha Bhattacharyya from Maine West and Darin Cheng from Maine South.
The honoree from Maine East will be celebrated at the October meeting. The individual was unable to attend due to a scheduling conflict.
PRATIKSHA BHATTACHARYYA
Pratiksha has consistently been challenged in the most rigorous courses offered in District 207 and has excelled in all of them. She earned National Merit Commended status and is a member of National Honor Society. She participates in Link Crew, COACH Tutors, Key Club, Math Team, Medical Club, the Westerner (school newspaper), the Indian Student Association, and theMath, Science, and Social Science Honor societies.
"I have been lucky to have teachers willing to meet outside of class, to go in during lunch or morning office hours," Pratiksha says. "My teachers give me more effort than I could have asked for." In a discussion about future endeavors at the start of the year, she said two of her teachers asked: "What kind of problems do you like to solve?" Pratiksha feels drawn to health care, and is deciding between several areas: practice, policy, or medical technology development. She shadowed an endocrinologist as part of the district's career experience focus but is keeping her options open on what area she plans to specialize.
Social Science teacher Melissa Murray describes Pratiksha as "an intellectual force, one who leads through a calm certitude in her hard work and dedication to excellence. In our class, others clearly held high regard for her opinion and wit, which she always delivers with a warm smile."
English teacher Charles Gray confided that he has "never encountered a student more determined to push herself to perform at the highest level. With assignment after assignment, she came in during office hours to ask for help. She has the highest expectations for herself and is committed to live up to them. Yet she is also personable, friendly, and kind. She inspired others in her sophomore English class with her focus and work-ethic."
DARIN CHENG
Darin has received numerous awards and is highly involved at Maine South. He earned the regional award in the midwest Chinese speech contest during his freshman year and was a science department award winner in AP Physics as well as a department award in AP Chemistry. He has been involved in mathletes, Model UN, Southwords, National Honor Society (NHS), Chinese National Honor Society Science National Honor Society, and he is the President of Chinese club. As a part of the district's internship offerings, Darin has been managing the website for the school's peer tutoring program as well as running several teaching sessions for peer tutors.
"I like to improve myself through the challenging courses and by attending school I feel like I'm reaching my full potential," Darin says.
Accelerated Biology teacher, Amy Capps, says, "Darin is one of the strongest students I've ever had. He was always striving to improve and utilized all of the constructive feedback provided to him. I thoroughly enjoyed reading his thoughtful responses to questions and listening to him discuss topics with his classmates. And not only is Darin intelligent, he is also incredibly kind."
Victoria O'Malley, Darin's AP Statistics teacher, says, "I have had the pleasure of working with Darin on the Math team, in the Math Lab, and in AP Statistics. Darin is a strong math student who is an asset to the math team as both a good leader and a strong contestant. In the math lab, he helped other students learn math in a supportive and pleasant way.