District 207 Board Honors Students for Fine Arts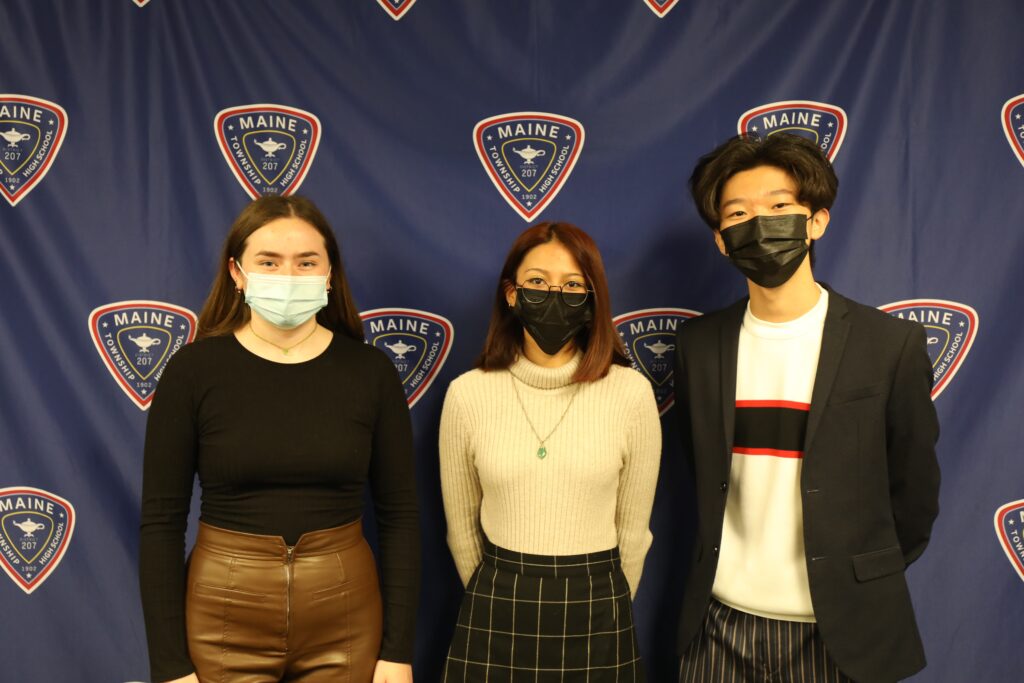 The District 207 Board of Education honored three students as "207's Best" in the area of fine arts during its November meeting. The students recognized were Adeline Bateman (left) from Maine South, Daelynn Campos (center) from Maine West and Daniel Cho (right) from Maine East.
ADELINE BATEMAN
Adeline has excelled in a large variety of Fine Arts offerings at Maine South. In theater, she has taken on the responsibilities of a backstage crew member as construction crew head, assistant technical director and assistant stage manager for the musical and fall play. She's a clarinetist, a two-year section leader and part of the equipment crew for marching band. She is also a section leader for the alto section in choir.
"There's a family in Fine Arts and the connections you make give you great leadership skills," Adeline said. "You become more confident and the foundation you get gives you more of an opportunity to succeed outside of school and after high school." Upon graduation, Adeline wants to study environmental advocacy where she will work with large corporations to eliminate waste.
Fine Arts Department Chair Teralyn Keith said, "Adeline is truly someone who represents 207's Best for Fine Arts. You will see Adeline in the art department, music department, and drama department. She is not only a participant but a leader as well. Adeline is such a role model and a force to be reckoned with! She exudes talent and creativity. I am so proud of Adeline and what she has accomplished with us over the past four years!"
Band Director David Hutter said that Adeline, "continually creates a warm and welcoming environment in her section and is a great role model for younger students. Adeline possesses a great work ethic which allows her to balance all her activities and she is extremely dependable. She brings a mature mindset to hectic situations and uses her problem solving skills to make solutions happen."
DAELYNN CAMPOS
One of Daelynn's greatest passions in the Fine Arts is photography, and she has applied that passion through serving as the photo editor of Maine West's student newspaper the Westerner, and spending countless hours in the dark room, fine-tuning her skills at creating tangible, preservable prints. She also is a leader in the Fashion and Cosmetology Club, and a member of Maine West Color guard, Link Crew, and National English Honor Society. She hopes to go into photography and potentially arts education as a career.
"Whether she is getting splashed on the side of the pool to capture her shot or balancing on a chair to get photos of the fall play, Daelynn goes where the action is to be the best photographer she can be," said Laurie McGowan, Daelynn's sponsor on the Westerner. "As the photo editor of the Westerner, she is an exemplary mentor to younger photographers, coaching them through the science and art of her craft. A person of excellent character, Daelynn is unflappable under deadline pressure and respected for her good nature and kindness."
Melissa Lloyd, Photo and AP 2D Design teacher said Daelyn is, "by far one of the most talented students that I have had the honor of teaching. She is a self-motivated, creative, and extremely talented artist… She is a responsible and flexible student when it comes to conceptualizing new ideas for her projects. Her determination to create a superior finished piece always prevails."
DANIEL CHO
Daniel has participated in a wide variety of Fine Arts courses as he's been in Drama for 4 years, Chamber Choir for 2 years and East's acapella group Audacity in Blue for 3 years. He is a Schuler Scholar, is in the Gifted Lyceum Program and he has taken a rigorous course load with AP Spanish Language, AP Literature and Composition, AP Calculus BC, AP US Comparative Government and Politics, AP Language and Composition, AP US History, AP Physics 1, AP European History and AP World History. Through a competitive audition process, Daniel was selected to participate in the Illinois Music Education Association District and All-State honor choirs. He was also chosen through an audition process as a cast member for the 2022 Illinois High School Theatre Festival production of Cabaret and earned honors being named to the Illinois Music Education Association's District 7 Honors Choir.
Drama teacher Karen Hall said, "Daniel has taken four years of Drama and he pushes himself every day in Drama class as he tries – and succeeds – to master one more skill or one more technique. He is a hard worker who often forgoes personal accolades for group success. He is the epitome of the Ensemble member. He excels both at comedy and at drama and has demonstrated that he has a real flair for Improvisation."
Choir teacher Kate Lee said, "Daniel has given so much to the fine arts program over the last four years. But what is most extraordinary about Daniel is not how much he has given, but through which circumstances he has given. During his junior year, Daniel sang in V-Show and A Cappella, performed the lead role in our spring musical, and was selected for both the ILMEA District 7 Choir and All-State Honors Choir. These are enormous accomplishments in themselves, but to have accomplished them during a pandemic is really quite remarkable. I am constantly inspired by Daniel and feel forever grateful for his leadership, camaraderie, and resilience in the fine arts program during these difficult times."