Dr. Melissa Pikul Selected as Maine East Principal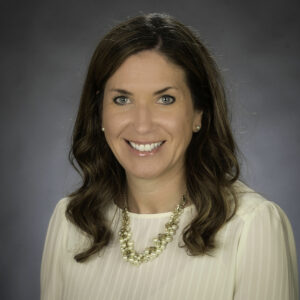 Maine Township High School District 207 found the next educational leader for Maine East High School within its own ranks. Dr. Melissa Pikul was selected as the school's next principal. She is in her 18th year in education and has held several administrative roles and teaching positions during her career.
"Dr. Pikul has quickly established herself in District 207 as an exceptional leader in the mission critical area of student services," Dr. Ken Wallace says. "Her attention to detail and her diligence in serving students, families and staff has been a hallmark of her work in this District, and it will be the foundation of her continued success as the new Maine East principal."
This is the first time in the history of the school district that the majority of the District 207 schools will be led by women.
Dr. Pikul participated in three rounds of interviews, two of which were with a selection team of more than 40 individuals that included students, staff, parents and administrators from Maine East and the district.
Dr. Pikul currently serves as Associate Principal for Family and Student Services at Maine South High School, where she has been since 2019. Her previous position was as Assistant Principal for Student Services at Lake Zurich High School for five years. Prior to that role, she was the Dean of Students at Lake Zurich High School for three years. She also served as a lead social science teacher and as a social science teacher while with Warren Township High School. To begin her career in education, she was a G.E.D teacher for the College of Lake County.
"It is an honor to be chosen as the next principal at Maine East High School, a school that has a rich history," Dr. Pikul says. "The school is a representation of the diversity in the community and I strongly believe that diversity is a source of strength and pride. I look forward to being a part of the team of incredible educators and staff members at Maine East as we work to ensure each and every student has the opportunity to be a success when they graduate from Maine East."
She earned a bachelor of arts degree in psychology as well as her teacher certification from Marquette University. She earned her masters of teaching and leadership from Saint Xavier University and her doctorate of educational leadership from Concordia University.
She served as an adjunct faculty member at Concordia University in the School of Education, has presented work on social-emotional wellness at several conferences and was named the Community Unit District 95 Educator of the Year in 2017 while she served as Assistant Principal for Student Services for Lake Zurich High School.
Dr. Pikul will begin her role as principal officially on July 1, 2022, however she will have the advantage of transition activities given her current role in the district. She will work closely with Maine East principal Dr. Mike Pressler during the next seven months as part of the transition. Pressler, who is in his 30th year in District 207, is retiring at the end of this school year. He has been the principal at Maine East since 2010.