Maine East Student Earns Scholarship
Written by Communications Department Intern Lillian Niziolek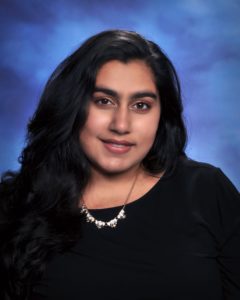 Roshni Lotwala, a recent 2021 Maine East graduate, was awarded a $1,000 scholarship from the Illinois Directors of Student Activities (IDSA) Executive Board. This organization works to improve extracurricular opportunities at Illinois high schools.
Deborah Beagle, Director of Student Activities for IDSA, indicated the positive impact Lotwala had at Maine East High School and expressed confidence that Lotwala will have a similar influence during her post high school career.
Lotwala's efforts were seen in a variety of ways including her leadership in COACH peer tutoring and as the South Asian Student Association President (of which she was also a founding member). Roshni also spearheaded a book discussion of Chanel Miller's Know My Name for the school's Feminist Club.
Lotwala led the homecoming spirit committee for the student council. When COVID provided new obstacles to overcome, she brainstormed writing "Maine East. Stronger Together" on a fence at the school. She presented the idea to both the principal and a committee, and she then formed a group to complete the project.
As a member of NHS, Lotwala volunteered for a tech trial team, giving teachers feedback on new technology in the virtual classroom. She worked closely with her science teacher, Judy Tyler, staying after class to help her navigate e-learning.
"I have really gotten to know her and find her to be thoughtful, kind, passionate, compassionate and courageous," Tyler said. "Those who serve others are leaders in and out of the classroom, and I know that she will continue to make her world a better place."
Lotwala will use the money towards her college tuition in the upcoming 2021-2022 school year.