Students Honored for Community Service and Academic Achievement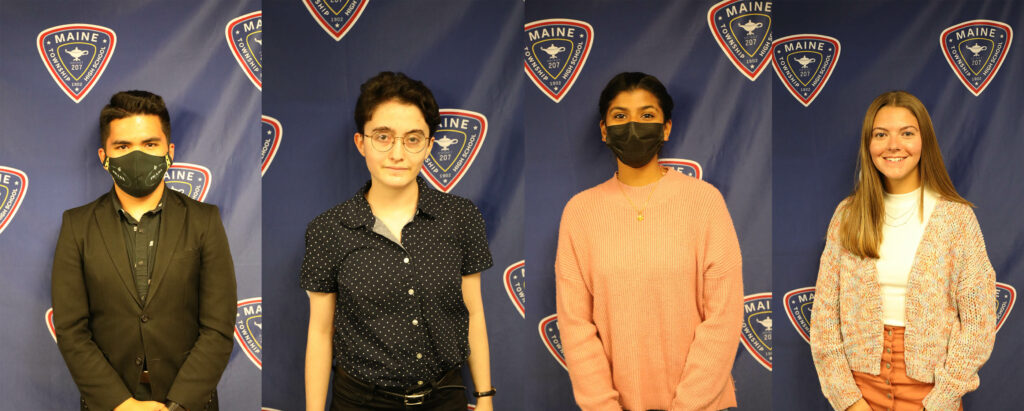 The District 207 Board of Education honored three students as "207's Best" in the area of community service and one student in the area of academic achievement during its October meeting. The students recognized in community service were Dulf Genis from Maine West, Pallavi Raju from Maine East and Ella Zimmerman from Maine South. The student recognized in academic achievement was Rebecca Hurwitz from Maine East. She was unable to attend the September meeting when the other two academic achievement students were honored.
DULF GENIS
Dulf has been involved in a wide range of leadership and community-based activities during his time at Maine West. He was in the Clean Up/Give Back program, SPEAK Des Plaines, where he is also an intern, the Des Plaines Public Library, the Niles Public Library, the Center of Concern, Hana and Hanul (local nonprofits serving the Asian community), the Self-Help Closet and Food Pantry, and the Key Club. He is also the President of the Science National Honors Society, serves on the Executive Committee for the Principal's Leadership Team, the National Honor Society, is Second Consul in Model UN, and is in Warrior Strings, Pi Sigma Pi, Spanish NHS, Mu Alpha Theta, Tri-M, which he is an officer, and he tutors violin in the community as well. He also created a Student Department for Community Development to ensure students have opportunities to do service at any time, through a network of local service organizations that are enlisted to be community partners. This turned into an internship in Maine West's Career Services Department.
Dulf wanted to emphasize, "This isn't really me. This is my parents, my grandparents. My determination, that's from them. My creativity, that's from them. My spirituality, it's from them. Service comes from faith."
Key Club sponsor Kathy Garrity-Rodinos said, "I think Dulf's greatest accomplishment for community service is the diverse group of people he recruits to volunteer. He inspires an eclectic group of contrasting personalities to improve our community. Helping peers see the beauty in service to others is a form of community service itself."
Social Science teacher Diane Littlefield Lanham said that Dulf is a, "live wire, a bundle of positive energy, and an asset to every group with which he is associated. Whether he was in costume as a revolutionary in my history class, or enlivening Zoom class with his witticisms and wacky backgrounds, he brought joy and commitment to every lesson. Dulf is a wonderful role model for younger students, showing them that even in the toughest of times, a young person can make a difference with enough passion and purpose."
REBECCA HURWITZ
Rebecca has taken a challenging course load and has the highest GPA in this year's senior class at Maine East. She is a National Merit Semifinalist and is a member of National Honor Society. She participates in the Gifted Lyceum program and is currently in, or has been a member of, Speech Team, Reading Club, Students Organized Against Racism, Skills USA, and the Coach tutoring program.
Rebecca's future plans revolve around chemical engineering and materials science. Both are areas in which she's already embarked in extensive research with the University of Michigan's Math and Science Scholars Program, Stanford University's AI Scholars program, the University of Massachusetts Amherst's Summer Engineering Institute, Stony Brook University's Garcia Research Scholar Program for High School Students, and Maine Township High School District 207's Science Research Program.
Math teacher Mark Dobner said Rebecca is, "undoubtedly one of the strongest students in her class. She is articulate, assiduous, and takes great pride in her work. Despite the challenges of virtual learning last year, Rebecca thrived academically, consistently exhibiting a meticulous eye for detail, deep analytical thought, and impressive problem-solving skills."
Social Science Teacher and Gifted Lyceum Program Director Greg Reuhs says, "I've been fortunate enough to watch Rebecca grow over the last four years, working with her in Maine East's Lyceum program. Although she still has the same intensity and intellectual curiosity (she had since Freshman year), she now also uses it to pursue her passions and to bring others into the work that she is doing. Junior year she spearheaded a group looking to bring composting to the school and district. I was so impressed by the way she helped set her classmates up for success and brought out the best in each of them."
PALLAVI RAJU
Pallavi has consistently enrolled in a challenging selection of courses, while being heavily involved in a variety of extracurriculars at Maine East. She has been a leader in the school's Broadcasting program, having been in those classes for three of her four years while being active in WMTH-TV for all four years. She is also a PE Leader and a Schuler Scholar. She was the Founder and President of the Mental Health Awareness Club, President of the Maine East Student Council, Co-President of Maine East CARES, and a Volunteer for KhalsaAid, a UK based international non profit humanitarian organization providing support to victims of natural and man made disasters around the world. She was a Coordinator at the Adult Down Syndrome 5k for Maine East Rotary Interact and organized fundraisers while raising money for charity for Maine East CARES.
Karly Vance, Program Director for the Schuler Scholar Program says, "While Pallavi's involvements clearly display her leadership, it is the behind-the-scenes work to advocate for her peers that really makes Pallavi stand out. She is a lifelong learner and advocate for social justice and mental health. She is a person who is determined to face the challenges of the world head-on, and be a part of the solution."
Eric Coval, English teacher and SOAR co-sponsor says, "Pallavi is a go-getter in every sense of the word and everything she does is in an attempt to make our school community and the world a better place. She is thoughtful, inquisitive, and a true learner in every sense of the word. While she does so much for the school, her initiation of the mental health awareness club is a prime example of how she sees a need, and does everything in her power to try to help others."
ELEANOR ZIMMERMANN
Community service is something that has interested Ella since she was in middle school. At Maine South she has been a Key Club member for all four years where she participated in programs assisting with Feed My Starving Children, making cards for hospitalized children, and taking part in an Uncle Pete's event where she helped pack lunches for homeless shelters. She is a science and math tutor, a Hawk PRIDE leader, a member of National Honors Society, Engineering Club, and secretary of Science National Honor Society. Outside of school, she was a STEM leadership counselor at Camp Invention where she led the kindergarten group, she made blankets for Mary Seat of Wisdom, volunteered at Bernie's Book Bank, and she was the assistant CCD teacher at St. Paul of the Cross.
Ella wants to go into biomedical engineering and she is considering multiple programs and schools.
Ella's Counselor Meghan Wood says, "While she excels academically, her intelligence is matched by her strong leadership skills and passion for reading and research. Her courses have increased in rigor with each year and I admire her willingness to experiment with a variety of our elective classes. In doing this, Ella has been able to create challenging yet feasible career goals for herself which have been apparent in her course selection. Aside from excelling in demanding academic courses, Ella has exhibited exceptional leadership skills in her involvement outside of the classroom."
English 2 Accelerated teacher Laura Kirshner says, "Ella has been a shining light in all of her years at Maine South. Being witness to her compassionate personality, her inclusion of others, and her creative and critical thinking throughout her sophomore year in English class, I am not surprised that she is the recipient of this award."