Students Recognized by Board for Academic Achievement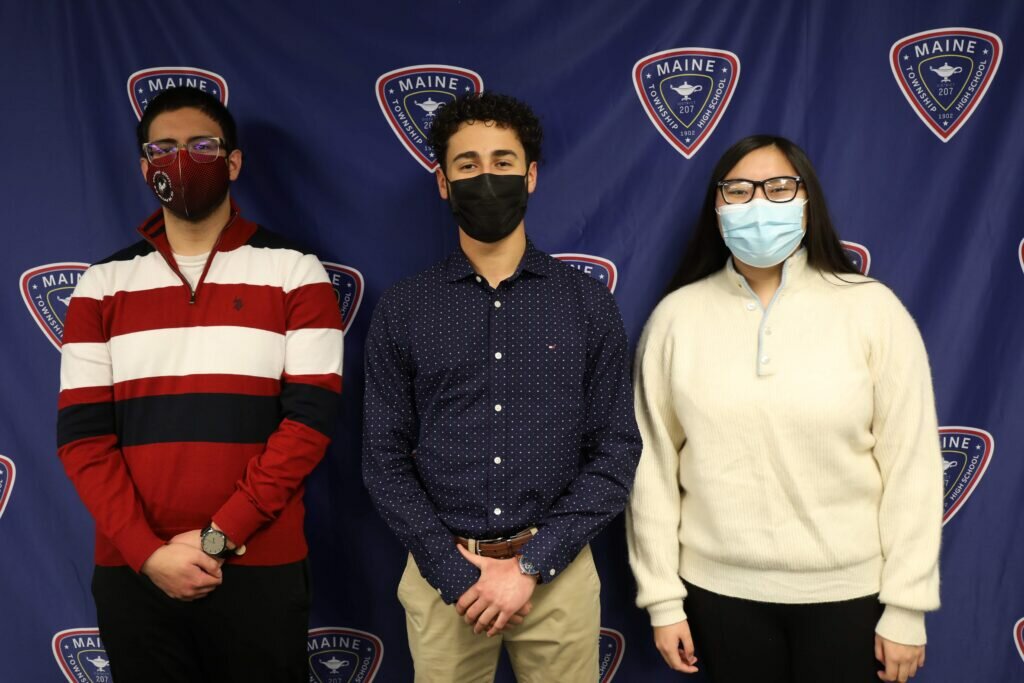 The Board of Education recently honored three students for their outstanding achievements in academics. Alexander McNeilly (left) from Maine South, Marc Rizkalla (center) from Maine West and Stella Tsogtjargal (right) from Maine East were each named as "207's Best" at the January Board of Education meeting.
ALEXANDER MCNEILLY
Alexander has one of the highest GPAs at Maine South while taking a menu of very difficult courses. He posted a nearly perfect SAT score of 1590. He is a member of the math team.
Alex has a passion for augmented reality and he saved money and purchased equipment and a phone to run augmented reality apps. He began talking to people at different colleges about how he could learn more and joined a technology organization called VRAR Chicago where he was the only person under 20 in the group. Over the past several years he started to read college level textbooks and research papers to further his learning. Alex recently presented at the VRAR global summit that was held virtually this year. His presentation was on parent and student VRAR resources. Alex shares that one of his favorite classes is multivariable calculus class because so much of it transfers into the VRAR world.
He currently works at a non-profit called Junior Economic Club of Chicago where he designs all of the graphics and presentations for the organization.
Greg Reichelt, his computer programming teacher, says, "Alex's computer programming work was amazing and his questions always created engaging class discussions."
MARC RIZKALLA
In addition to his academic pursuits, Marc was also chosen for this award because of his enduring sense of gratitude and contributions to his community. As part of his mission-driven work, he tries to pay it forward in the classroom and the volleyball court, building community with his classmates, teammates and coaches. He has also immersed himself in the Westerner (school newspaper), Science National Honor Society, National Honor Society, Pi Sigma Pi and as part of the Principal's Leadership Team.
Marc has broad-ranging academic skills, having achieved distinction in every class he has taken. With engineering as a passion, he recently had a virtual job shadowing experience in aerospace engineering and is looking for an in-person opportunity. He is currently immersed in Computer Aided Drawing (CAD), computer science and cybersecurity classes.
Teacher Leslie Young described him as "not only a hard-working, conscientious, and thorough student academically, but a wonderful human being."
STELLA TSOGTJARGAL
Over the past four years, Stella has taken a challenging course load that has included AP Physics C, AP Physics 1, AP Chemistry, Multivariable Calculus and Differential Equations, AP Calculus BC, AP US/Comparative Government & Politics, AP US History, AP European History, AP World History, AP English Literature and Composition, AP English Language and Composition, AP Computer Science A and AP Studio Art (Drawing). Her elective courses have included four years of accelerated Spanish Language, a year of drama and three years of art. Stella also serves as a physical education leader, a member of the Gifted Lyceum program, a member of the Schuler Scholar program and a member of the Maine East Debate Team. Academic honors include designation as a National Merit Semifinalist and also as a National Speech and Debate Association Academic All-American (an award that recognizes the top 2% of speech and debate students in the country). Stella has also been recognized as an AP Scholar with Distinction and she received a Scholastic Art and Writing Awards Regional Honorable Mention.
Stella has also participated in several summer college programs and camps, including the Smith Summer Science & Engineering Program, Seattle University AI-4-ALL Program, Michigan State University Spartan Scholars debate camp and the University of Michigan debate camp.
Stella has been a strong leader in a number of clubs and organizations at Maine East including: Women and Nonbinary People in STEM co-founder and officer, Debate varsity co-captain, Scholastic Bowl varsity co-captain, Astronomy Club co-president, Rotary Interact secretary, ME Cares, National Honor Society and National Art Honor Society.
Owen Doak, Maine East Social Science teacher said, "Stella is an outstanding young woman and perhaps the most talented student I have had in 28 years of teaching. As a student and as captain of the Scholastic Bowl Team she has consistently shown herself to be a brilliant, hardworking and passionate young scholar with outstanding leadership skills."