Three Students Honored by Board of Education for Achievement in the Area of Electives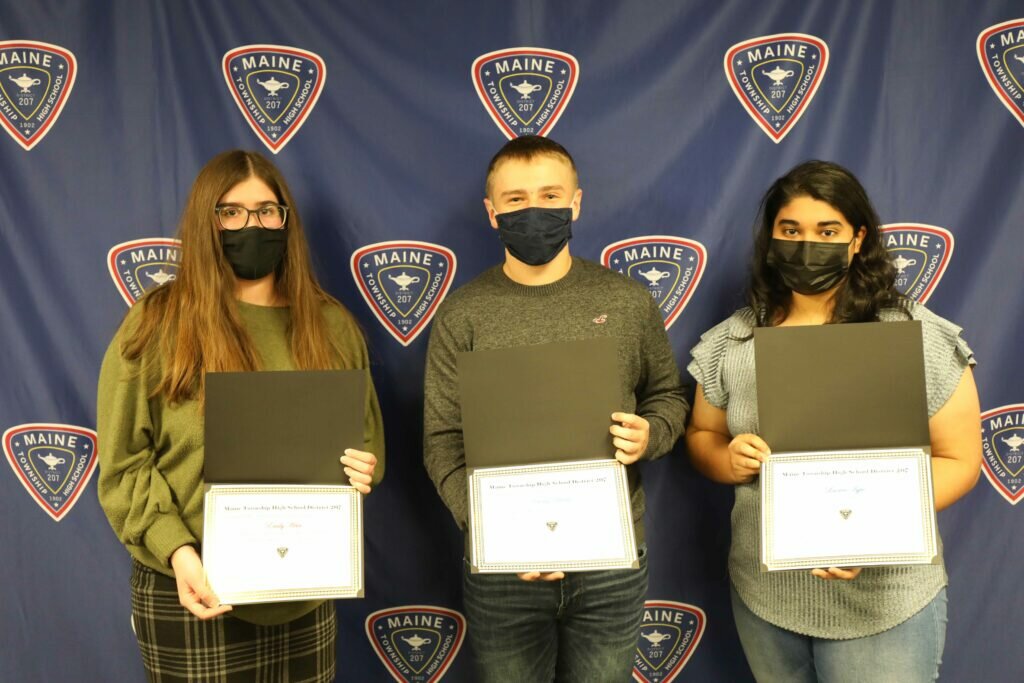 The Board of Education recently honored three students for their outstanding achievement in the area of electives. Tommy Burke (center in photo) from Maine West, Lauren Iype (right in photo) from Maine East and Emily Hein (left in photo) from Maine South were each named as "207's Best" for elective area of achievement in December.
TOMMY BURKE
Tommy Burke was honored for his achievements in electives, specifically, in engineering and architecture classes. He began exploring the field when he first arrived at Maine West by taking engineering courses and then summer school to make room in his schedule for more classes. Computer Aided Design (CAD), Civil Engineering & Architecture, Computer Integrated Manufacturing, Advanced CAD, AP Environmental Science, Internship, AP Calculus, AP Physics, four years of Spanish, and AP Human Geo are among the electives Tommy has pursued. He wants to create and design, leaning toward studying civil engineering because he is interested in the public processes and project management sides of the field. In addition to his academic coursework he has engaged fully in extracurriculars including: SkillsUSA, DECA (Distributive Education Clubs of America), Key Club, National Honor Society, National English Honor Society, Pi Sigma Pi, the Westerner, Link Crew, Varsity Baseball and WAPA (Warrior Athletics Players Association), in which he is an officer.
Tommy also has done job shadowing and is part of the Maine West outdoor spaces project, in which student design teams propose plans for spaces such as the pool patio at Maine West. Finally, he is a vital member of the Principal's Leadership Team.
"He is a remarkably energetic and positive person, always friendly, always mindful of, and caring for others," says Social Science teacher Melissa Murray. "It is fitting that he would be receiving an academic award for his electives as that is yet another example of his gregarious spirit, maximizing his engagement in our school community."
LAUREN IYPE
Over the past four years, Lauren Iype has taken a challenging course load that has included AP Psychology, AP Statistics, AP Physics 1, AP English Literature and Composition, AP Calculus BC, AP U.S. History, AP Chemistry, AP English Language and Composition, AP European History, AP World History, and she is a member of the Physical Education Leaders program. Her elective courses have included study of Spanish language, four years of Orchestra, Health Care Careers, CNA (Certified Nurse Assistant program), Early Childhood Development, and she will be taking Medical Terminology during second semester.
In addition, Lauren is president of Maine East's Health Occupations Students of America (HOSA) Club where she is a state voting delegate. She is president of National Honor Society and she is a member of Rotary Interact. Lauren is also a member of East's chapter of the Tri-M International Music Society, has been a member of the Pit Orchestra for V-Show and is a member of Animal Awareness Club. She spent a summer as a naturist intern at the River Trail Nature Center for the Forest Preserves of Cook County where she helped maintain the grounds and gardens, prepared food for the rescue animals, and created educational children's activities. She is also a member of the Student Conservation Association where she has worked to restore habitats, maintained grounds, work on gardens, and helped to create public trails that are wheelchair accessible.
"I have had the privilege of having Lauren as a student in two of the elective courses that I teach and she will be in another one of my classes in the spring," says CTE teacher Tess Love. "As a student in my Early Childhood Development and my Healthcare Careers courses, Lauren proved to be conscientious, determined, and mature. I was lucky to witness her passion, drive, and experience in the healthcare field through a variety of course discussions, activities, and experiences."
EMILY HEIN
Emily Hein has a passion for languages and that has shown through given her choices for elective classes at Maine South. Last year she took the German AP test and this year she is in French AP. Emily is a member of the French Club and has been a member of the German Club for four years. She is a four-year member of the martial arts club and she is a three year member of the tennis team. She also is a member of Key Club, Southwords, French National Honor Society, German National Honor Society, National Honor Society, has competed in the UIC German spelling bee and will compete this year in the essay competition. She volunteers at Exodus world services where she makes packages of food for refugee families who are new to the Chicago-land area.
Margaret Wolf, German 5 Accelerated teacher, says, "Emily consistently demonstrates her love of languages and interest in learning about other cultures. As a polyglot studying both German and French for all four years, Emily has had a positive impact on both language programs at Maine South. Emily has already successfully taken the AP exam for German and plans to take the AP exam for French this year. Emily is a strong language student and a great example to her peers of world citizenship."