Maine West to Present Young Frankenstein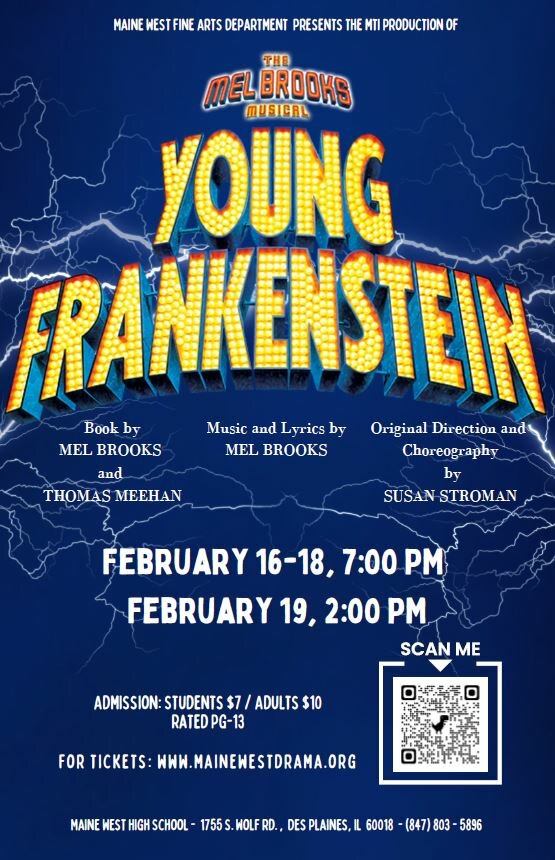 Maine West's Fine Arts Department will present Mel Brooks' Musical "Young Frankenstein" on February 16, 17 and 18 at 7 p.m. and February 19 at 2 p.m. The show is directed by Mr. David Harmon.
Tickets are $7 for students and $10 for adults and can be purchased at bit.ly/MWBoxOffice.
This specific story is a parody of the horror film genre, combining the stories of the 1931 Universal Pictures adaptation of Mary Shelley's Frankenstein and its 1935 and 1939 sequels, Bride of Frankenstein and Son of Frankenstein. In 2007, the Broadway version of the film premiered.
Though a comedy that has plenty of Mel Brooks' classic anecdotes, the overall embedded themes are of love and acceptance, accompanied with music that can be described as upbeat, lighthearted and vaudevillian. Some of the hits include Puttin' On The Ritz, Transylvania Mania, Roll In The Hay, and Together Again.
Behind the scenes is a tech crew of about 20 students, under the direction of auditorium manager Peter McManus. The crew is designing and constructing the set, designing and controlling the lighting, organizing all props, and handling all of the sound engineering. Costumes are being designed by Ashley Benson along with student assistants.
Jaiden Maisonet, a sophomore playing the role of Frau Blucher, says, "This musical stands out compared to other musicals I've worked on because of the humor. Young Frankenstein is filled with jokes and little innuendos that make even the cast crack up and break character."
Igor is played by newcomer, Haven Wallgren Lemmerman. Haven says, "The most enjoyable part of being in this show is the process of working with people that I've never really worked with before and I get to make so many great friends and learn more about acting and music."
When comparing this production to previous shows, Amelia Foy (playing the great Elizabeth Benning) says, "The movie Young Frankenstein is a classic just like last year's Beauty And The Beast, however this show couldn't be any more different. This show is a wild ride that you will never forget. Even after watching this show over and over again during the rehearsal process I still find new things to laugh at. I have been doing shows at Maine West since my freshman year but this show is really special."
Director, David Harmon, believes this show is special because it provides an opportunity to share a lesser known story with the greater Des Plaines community. "Sure, everyone loves 'Beauty and the Beast' but everyone knows what to expect with a well-known Disney musical. Conversely, 'Young Frankenstein' is full of twists. Audiences may be genuinely surprised by how the story plays out – a challenge we've accepted!"
Young Frankenstein contains adult humor and adult language and may not be suitable for all young audiences. The show is rated PG-13.