Maine South High School Named We the People State Champions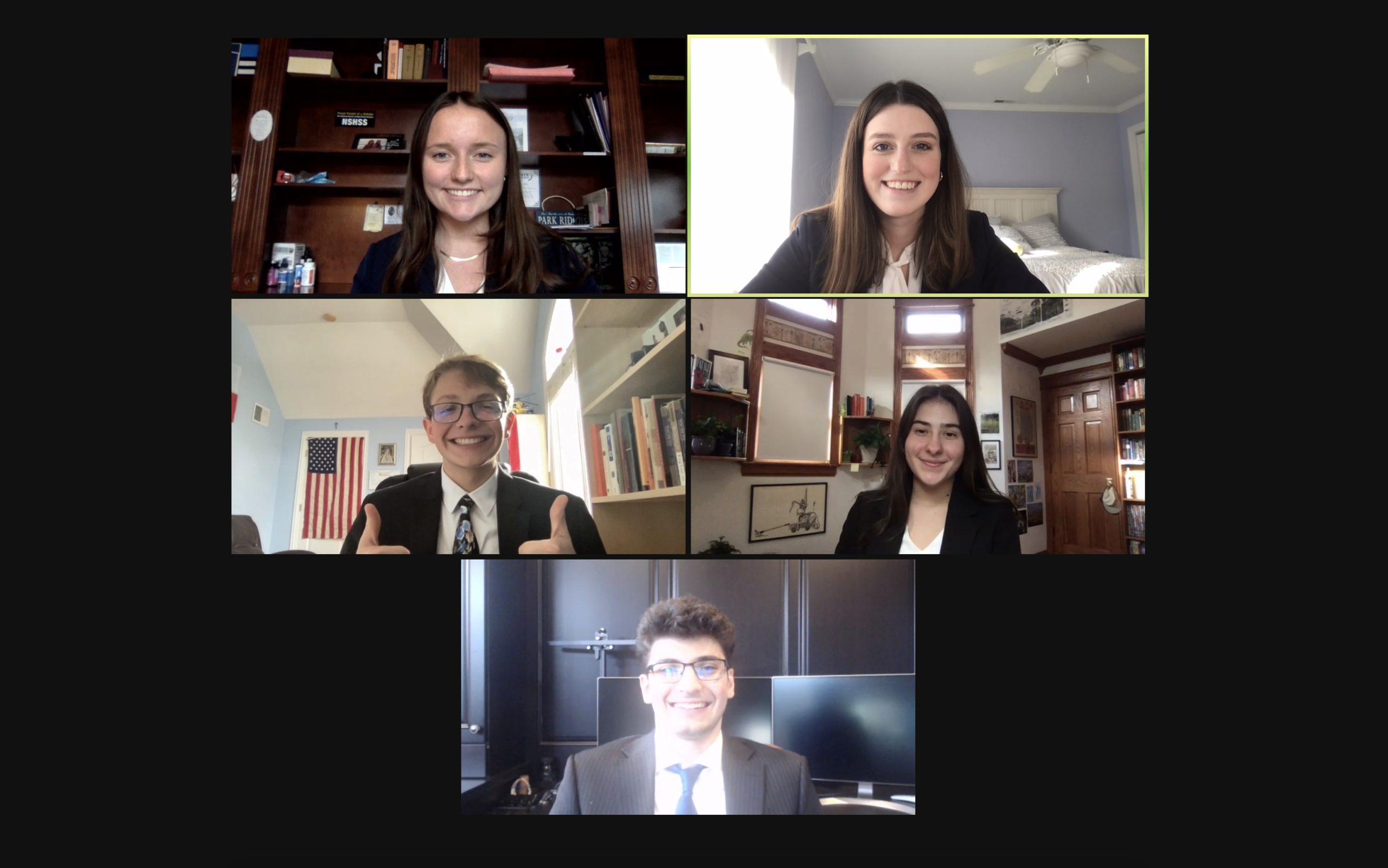 Pictured are, left to right, top to bottom: Morgan Fanning, Maggie Ryan, Tommy Weber, Julia Pop and Matthew Marogil.
Maine South High School will represent Illinois as the state champions of the We the People national competition sponsored by the Constitutional Democracy Project.
Maine South and other high school teams competed virtually in simulated congressional hearings on January 15 as part of the We the People national program, which promotes civic competence and responsibility among youth. Students testify as constitutional experts in front of a panel of judges acting as congressional committees. The judges ask the students questions to assess their knowledge of constitutional principles and their ability to apply these principles to historical and current issues.
The Maine South team includes students Drew Burgis, Nicole Causevic, Matthew Coyle, Susie Curry, Molly Devlin, Brecken Enright, Morgan Fanning, Gaby Gawedzki, Jacki Honan, Kenny Kim, Jack Kosciarz, Cooper Kotowski, Justin Kim, Amalia Laskaris, Vasilios Loutrianakis, Sydney Lucas, Niki Manolis, Matthew Marogil, Kristen Meyer, Lukas Olaffson, Julia Pop, Molly Russell, Maggie Ryan, Catherine Sernel, Wilson Sitkiewicz, Anna Wapner and Tommy Weber. The team is coached by teachers Andrew Trenkle and Kevin Hansen.
The questions students tackled in the state competition hearings this year include: "What Challenges Might Face American Constitutional Democracy in the Twenty-First Century?" "How has the Constitution Been Changed to Further the Ideals Contained in the Declaration of Independence?" "What Rights Does the Bill of Rights Protect?" "How Have the Values and Principles Embodied in the Constitution Shaped American Institutions and Practices?" "What Are the Philosophical and Historical Foundations of the American Political System?" and "How Did the Framers Create the Constitution?"
The We the People: The Citizen and Constitution National Finals, which is normally held in Washington, D.C., will be held virtually this year April 24–26, 2021. The competition will include nearly 1,000 students from 48 classes.