District 207 has a suite of tools designed to provide individualized career advisement to
assist in "Getting it Right" for every student.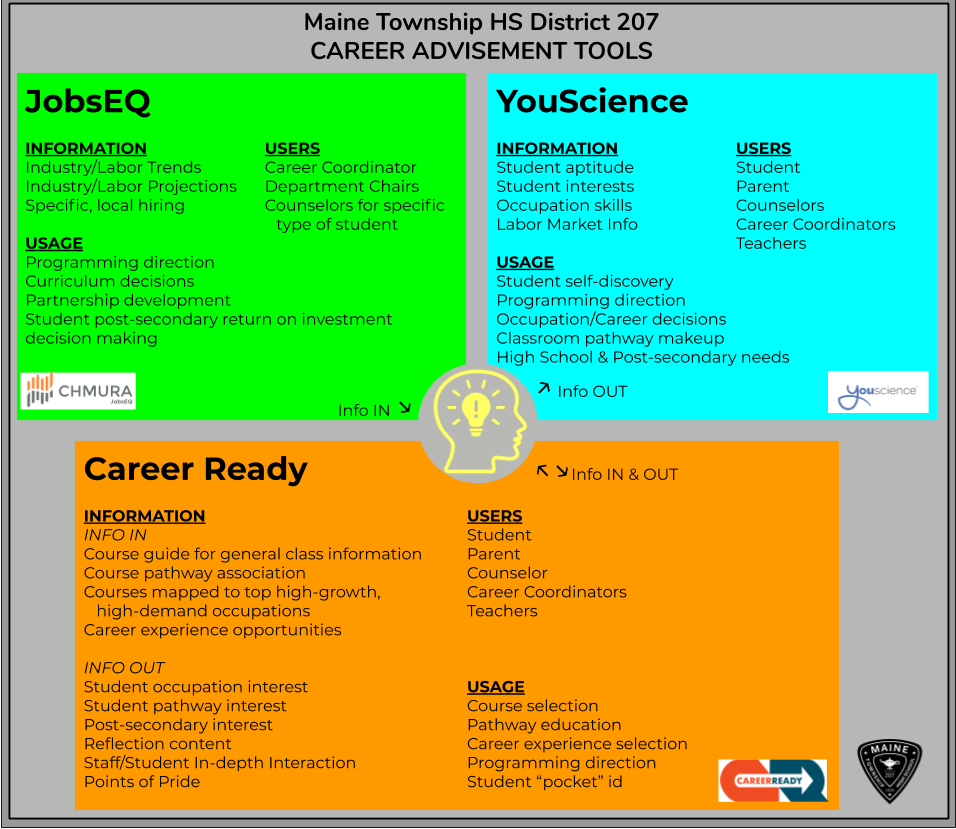 YouScience
Interest and aptitude assessments are completed individually, during group Advisory meetings, or with a targeted staff member.
Learn about what information is in a YouScience Report

Students meet in small groups to review their assessment report and to enter information into Career Ready
Career Ready
Career Ready (CR) (formerly pathwayMANAGER) is a tool to house course offerings, individual career plans, occupational information, and career exploration and experience opportunities.
Students can enter information into CR individually, during group Advisory meetings, or with their counselor or career coordinator member.
Staff use CR to send students invitations to career treks, career panel presentations, and school career-related events such as job fair dates or college rep visits.
Naviance
Students can research post-secondary options including certificate programs, associate's degrees through community colleges, trade school program, and traditional four-year colleges.
J

obsEQ
JobsEQ is used by school administrators, department chairs, career coordinators, career & college admissions specialists, and counselors.
JobsEQ is a tool we use to learn about labor market information about high-growth, high-demand occupations in our community, the Illinois/Wisconsin/Indiana region, and across the US.
Information from JobsEQ along with what we learn from local employers helps D207 make better decisions about how to incorporate authentic learning experiences into our classes, what skills we should teach our students to help them be successful in any training and education program and employment after graduating.