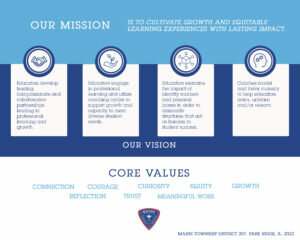 Maine Township District 207 Coaching Plans
Maine Township District 207 's "All In" coaching program ensures that every staff member engages in a coaching process every year. District 207 began it's coaching program in 2007 and evolved to "all in" coaching by 2013. Staff members develop their coaching plan based on the options below.
Individual Plan
CLEAR
PLT Plan
Coaching Pre Service Teachers
Peer to Peer
Individual Plan
This tradtional coaching plan consists of a one to one coaching partnership between a staff member and an instructional coach during which the participants engage in a coaching cycle focusing on an area or goal of interest to the staff member.
CLEAR project is an action research platform for teachers who would like to make a change or try something new in their teaching. Teachers collect data, reflect on findings, and use findings to guide future practice. Participants are coached through the action research process by teacher leaders and instructional coaches and present their findings at our annual ILEARN event.
This coaching plan allows for staff members to participate in the coaching process as a team. A PLT works with an instructional coach to implement a PLT goal. The coach develops a plan with the team that consists of team meetings as well as one on one meetings with each individual member of the team.
A staff member coaches a preservice teacher during their fall practicum and spring student teaching experiences. The staff member participates in professional development focused on making their practice visible and the mentoring of preservice teachers.
This plan provides the opportunity for two staff members to coach one another while receiving occasional support from an instructional coach.
The Chicago Coaching Center was founded by Dr. Ken Wallace, superintendent in Maine Township District 207 located in Park Ridge, IL and is currently directed by Jill Geocaris, the Adult Learning Coordinator in District 207. The coaching center partners with the Illinois Council of Instructional Coaches and several area districts to develop curriculum for its instructional coaching certification programs. The Chicago Coaching Center is a progressive collection of instructional coaches interested in providing a collaborative learning environment for instructional coaches and teachers who wish to develop their craft.
MAINE TOWNSHIP AS A LEADER IN INSTRUCTIONAL COACHING
STAFF RESOURCES