Occasionally inclement weather or other emergencies may cause District 207 to call a "Remote Learning Day" for students and staff. While in the past parents and students were accustomed to "snow days," District 207 no longer has a need to cancel school due to weather. Instead, in the event of severe weather or other emergencies, the district will move to a fully remote format in order to keep students on pace with their learning.
In the event of Remote Learning Day, that information will be shared on the front page of the district and school websites. Additionally, parents can expect to receive an automated phone call, e-mail and text message if they have opted in for that service. That information is typically shared by 6 a.m. or earlier.
Please note that if school is being held as usual (in person learning), no announcement will be made.
District 207 understands that students may find it difficult to log-on to classes due to other family commitments caused when children are not physically attending school; therefore, Remote Learning Days are designed to be flexible to enable students to meet the expectations for the day.
Teachers will check in with students using Google Meet for the first 10 minutes of each class period in order to take attendance and communicate the assignment/expectations for the day. There is no expectation that a class will meet synchronously for the entire class period; however, if a teacher chooses to do so, they will follow the daily schedule (below) i

n order to ensure that students and teachers have available time set aside just for them.

Teachers will be available to students via email, or when mutually agreed to, via Google Meet, between the hours of 8:30 am and 3:30 pm for the normal business of school including student support from 3:01 to 3:30.

For a Remote Learning Day, the normal rotation of odd/even periods days will be maintained (i.e. if the Remote Learning Day falls on an odd day, the next school attendance day, whether in-person or remote, will be an even day).

If the Remote Learning Day falls on a Wednesday, there will be no Advisory that day.

After school activities (athletics, fine arts, etc.) will be determined and communicated at the earliest opportunity possible.
Emergency Day Bell Schedule
(If the Emergency Day falls on Wednesday there will be NO Advisory schedule)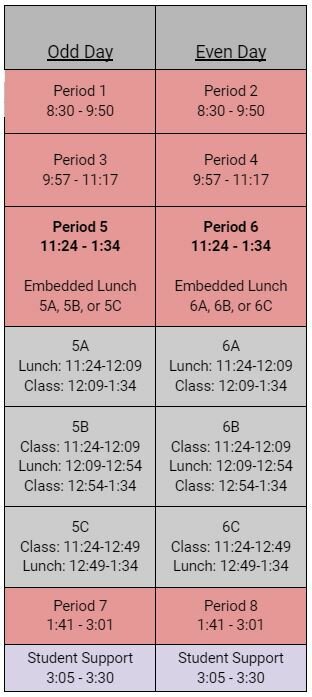 When making the decision to hold a Remote Learning Day for any reason, administrators carefully consider the safety of students and staff. There are many factors that impact a decision, including, but not limited to, the ability of our students and staff members to get to and from school safely, the current weather conditions, and forecasted weather.
School administrators understand that individual views on holding a Remote Learning Day vary and that not everyone will always agree with district decisions. However, decisions are always made with student safety as our top priority.